Free Webinar – Creating 21st Century Rites of Passage
In this webinar you will develop clear guidelines and learn strategies to support you to build strong healthy relationships with your children, bolster their independence and support them in their use of technology in these rapidly changing times.
When
Wednesday 28 August 2019 8:00pm AEST.
Your Exclusive Voucher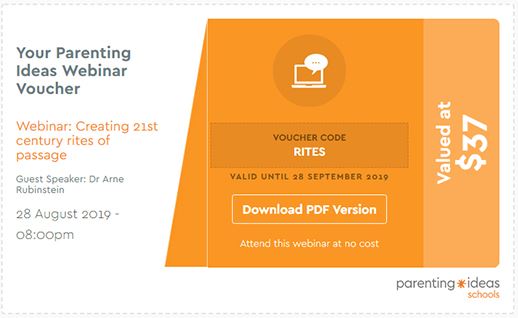 How to Redeem the Voucher
Click this link: https://www.parentingideas.com.au/parent-resources/parent-webinars/webinar-creating-21st-century-rites-of-passage
Click 'Add to cart'
Click 'View cart'
Enter the voucher code RITES and click 'Apply Coupon'. Your discount of $37 will be applied to the order. This voucher is valid until 28 September 2019.
Click 'Proceed to checkout'
Fill in your account details. These are the details you will use to login to your account and access your parenting material
Click 'Place Order'
About the Experts
This webinar will be hosted by Dr Jodi Richardson with presenter Dr Arne Rubinstein. 
Dr Jodi Richardson is a mental health, wellbeing and happiness science speaker and educator. She is a mother of two primary-school-aged children and is the founder and director of Happier on Purpose, the mental health and wellbeing expert for Parenting Ideas and writer for both print and online publications.
Jodi has developed her expertise over two decades of professional work in teaching, wellbeing, clinical practice and elite sport, including working for beyondblue on the national schools-based initiative for the prevention of depression.
Recently Jodi has co-authored her first book Anxious Kids: How children can turn their anxiety into resilience with Michael Grose.
Dr Arne Rubinstein is an internationally recognised expert on Rites of Passage and adolescent development. His camps, leadership trainings and seminars have been attended by over 150,000 people in more than 10 countries.
In August 2018 he supported the Butchulla Aboriginal People in Queensland to create the first Butchulla Rite of Passage for Butchulla boys in over 150 years.
Dr Rubinstein is the author of the best-seller 'The Making of Men' and has won multiple awards for his work including being nominated in 2008 for Australian of the Year for his ground-breaking work with youth.
Dr Arne is the proud father of two wonderful young men and a mentor to many others.