Free Webinar – Brave Parenting
Brave Parenting in a Culture Riddled with Worry – Free Webinar
This webinar is designed to help parents understand where their anxiety about their kids comes from, and why they don't let their kids do half the stuff they did growing up.
Hear from Lenore Skenazy, President of Let Grow, a non-profit promoting childhood independence and resilience, and founder of the Free-Range Kids movement. Lenore will talk about ways to make it easy and normal to start loosening the reins so both generations get more freedom. Key learning outcomes include:
Why treating our kids as physically and emotionally fragile is bad for their future
That your kids are not in constant danger
How independence impacts children
How to raise nimble problem solvers
Ideas to know how safe, smart and capable your kids can be, view the overview below
When
Wednesday 27 November 2019 at 8.00 pm
The Presenters
This webinar will be hosted by Michael Grose with guest presenter Lenore Skenazy.
Voucher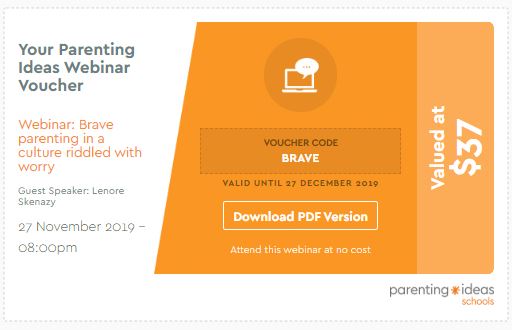 To Redeem
Click this link: https://www.parentingideas.com.au/parent-resources/parent-webinars/webinar-brave-parenting-in-a-culture-riddled-with-worry
Click 'Add to cart'
Click 'View cart'
Enter the voucher code BRAVE and click 'Apply'. Your discount of $37 will be applied to the order. This voucher is valid until 27 December 2019.
Click 'Proceed to checkout'
Fill in your account details. These are the details you will use to login to your account and access your parenting material

Click 'Place Order'