Founder's Day 2023
Friday 18 August 2023: Celebrating Our College, Our Founder, and Our Community.
Founder's Day is an annual celebration where we honour our College and its visionary founder, Edmund Rice. It is a time for us to deepen our sense of community and commitment to serving others. Edmund Rice serves as a role model, teaching us the importance of standing with the disadvantaged, prioritising others, and being genuinely good human beings. Through his example, we strive to promote dignity and respect for our fellow men and women.
This year holds special significance in the history of St Edward's as it marks the 70th Anniversary of our esteemed College. With such a milestone occasion, the focus of Founder's Day in 2023 will revolve around this significant event. Each homeroom will embark on a project that encapsulates the spirit of Eddie's legacy. These projects will be completed on Friday during Week 5, fostering a stronger sense of community among students and raising vital funds for the education of Frederick Were, a student from Nairobi, Kenya, who the College has supported in past years. To support our sponsorship of Frederick, we kindly request students to bring in a Gold Coin donation. In return, they will receive a delicious sausage sandwich for lunch.
Numerous exciting projects are already in progress across different homerooms, ranging from candle making and collaborative artworks to frisbee golf and basketball shooting competitions. Some homerooms have organized bake sales and others raffle/guessing competitions to raise additional funds for Frederick's education. Prizes will be awarded to homerooms with the most creative projects and those that best embody the core values of our College and the St Edward's spirit.
A special mention goes out to Mr Elliott Rozario's homeroom and Mr Paul Buxton's homeroom, who have gone above and beyond in their Founder's Day project by holding a BBQ Breakfast fundraiser every Friday morning for the next 5 Weeks. They will be raising funds for "The Man Cave", which is a Men's mental health organisation run in Australia to support teenagers and young adults. They have started off amazingly well, with $212 already raised! Well done to both teachers and their students for giving back to the community and showcasing the amazing values instilled within students at St Edward's.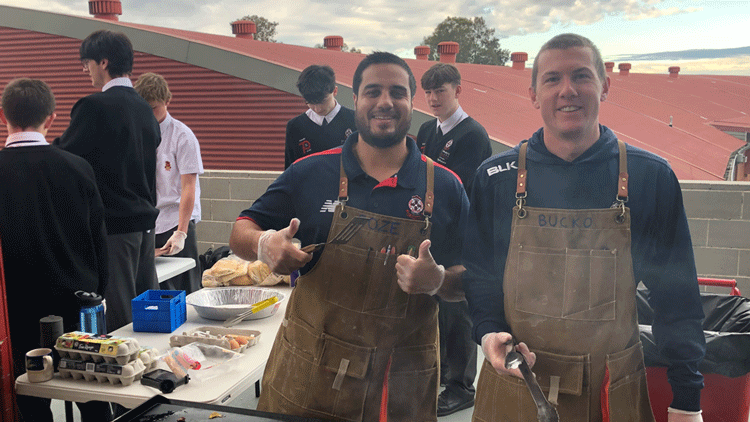 We eagerly anticipate a day filled with fun and community-building activities, where our values of service and positive relationship building can truly shine through.
Mr Alex Rozario
Leader of Justice, Peace and Advocacy