Excellence in English
Year 12 English Studies
Year 12 English Studies is an Atar and Non-Atar course taught in 2022 by Ms Lisa Alcorn and Mrs Michelle McDonald. The course has electives and a grade pathway or an examination pathway. These students, Darcy Towle, Cooper Zammit, Alexander Ryan, Scott Donnet, Paul Kucyper and Jack Legge have excelled in the course. Darcy has placed 1st overall and has shown for the entirety of the course his willingness to learn, work autonomously, and be a creative and curious learner who listens and implements feedback and works to deadlines. We have truly enjoyed mentoring these students through the course.
Year 12 English Standard
This year in Standard English the Year 12 cohort studied a range of texts within all modules to develop our knowledge of the world. The various texts were designed to ultimately prepare us for the HSC. Some of these texts included Amanda Lohrey's pastoral novella Vertigo, the anthology Contemporary Asian Australian Poets, Simon Nasht's documentary Frank Hurley: The Man Who Made History. These texts have all uncovered the various ways composers can shape meaning and convey ideas through their own unique representations and form.
One text that stood out was Vuong Pham's poem Mother within the poetry anthology which reflects the sacrifices his mother made to give her family the best opportunity at a good life after fleeing Vietnam during the Vietnam war. It reminds us all of the sacrifices our own families have made for us over the past two years, supporting us as we study. Atticus Fotofili was the number one ranking  student in Year 12 Standard English, 2022.
On behalf of the cohort, I would like to thank all of the Year 12 Standard English teachers – Ms Nowalinski, Mrs Titheradge, Mr Gill and Ms Moulton – who have done an excellent job in preparing us for the upcoming HSC exams. They have mentored us along this journey over the past two years and I know we are all very grateful to them.
Year 12 English Advanced
The St Edward's Advanced English cohort of 2022 should be commended for the enthusiasm they brought to our study of Literature, with every student demonstrating an inquisitive attitude and a willingness to take on challenges. They have brought a positive attitude to class and contributed to each lesson with good humour, creativity and a willingness to learn. Our study has covered a range of literary classics, which have challenged students with a variety of literary styles, philosophies and new ways of thinking. These have included Orwell's dystopian masterpiece Nineteen Eighty-Four, a comparative study of Shakespeare's The Tempest and Atwood's appropriation Hag-seed, as well as the modernist poetry of T.S Eliot. While all students have contributed to the class in an unique way, the top ranked students in particular have modelled for the class the work ethic and independent thinking that is essential for success in English.
Ronan Grattan, our top ranked Advanced English student for 2022, has consistently sought to refine both his thinking and his writing by preparing drafts, asking clarifying questions and bringing a genuine enthusiasm to his study. He has continued to set himself ambitious goals and has continually sought to better his skills in creative, analytical and reflective writing. Congratulations to all students on their achievements so far in Advanced English, and I wish them success as they continue to refine their skills and deepen their knowledge in preparation for the final HSC Examinations.
Year 12 English Extension 2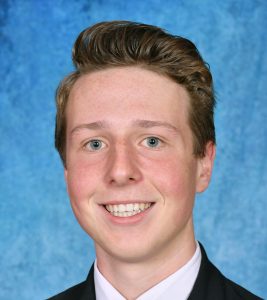 Year 12 English Extension Two is a course which involved a great deal of autonomy and dedication as it involves a research project and major work. Louis Whyatt is to be commended on his excellent attitude, work ethic, and tenacity for this course. He completed research into social and literary theories and then applied this to a creative non-fiction major work looking at the impact of body dysmorphia on men. Louis has juggled the demands of two major works during his HSC year and is to be congratulated on his excellent result.