Environment, Sport, Health and Wellbeing Portfolio
With the success of Trash Free Tuesday, the Environment, Sport Health and Wellbeing Portfolio is looking to introduce a healthy lunch box day.
This healthy lunch box day would be in conjunction with Trash Free Tuesday and count as an extra tick against students' names.  As of next term, we will be introducing house points into this tally so every healthy and trash free lunch box will go towards the house cup.  In order to be passed as a healthy lunch box, students must have at least 3 servings of fruit or veg.  One in twenty Australian students do not fulfill the Australian healthy eating guidelines, so if students can fulfill part of these guidelines at school, they will be on their way to achieving their daily target.
It has been an exciting start to the term, with students from our Environment and Wellbeing Portfolio meeting with our College Executive to seek approval to install another chilled water filling station and commence another Trash Free initiative which will be announced next term.  With the success of the first chilled water station and close to 20,000 single use plastic water bottles being diverted from landfill, Mr Bonnici was pleased to congratulate the students on their successful proposal.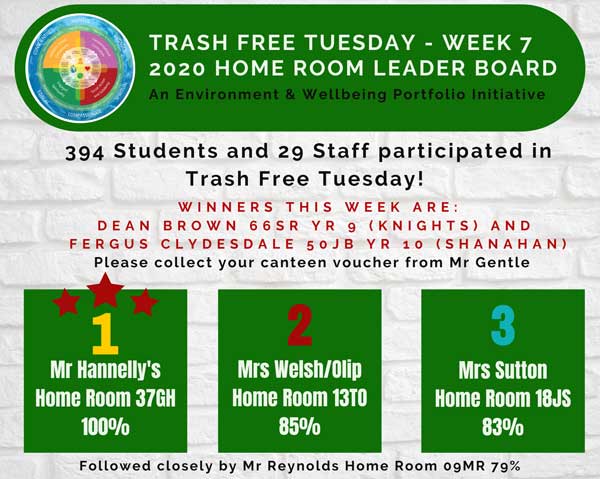 Students and staff have continued to support the Environment and Wellbeing Portfolio by showing they are passionate about their environment.  Trash Free Tuesday numbers have increased from 250 students in Week 1 to over 390 students in Week 7.  What a fantastic way of reducing our carbon footprint.
An excellent resource for healthy lunchbox tips can be found below:
Earth Hour
The College has registered to participate in Earth Hour on Friday 27 March.  Staff and students will switch off lights and be encouraged to have a non-technology class to make a difference and help our planet.
We would also encourage students to have a conversation at home with the intention of families and carers switching off for Earth Hour on Saturday 28 March at 8:30 pm.  Check out http://earthhour.org.au to learn about the impact climate change will have on you.