Environment Portfolio News
We have had a great start to Term 2 with the introduction of Trash Free Tuesday's.
Momentum is building across tutor classes with Mrs Barnard-Richardson's (34CB) achieving the most students (17 out of 23 students) to participate so far, followed closely by Mr Marks (24NM), Mr Gentle's (35MG) and Mrs Robinson's (63SR) tutor.  Our voucher winners for Term 2 so far are:
Week 2: Alexander Golden (Yr 7 Tutor 12JM), Eden Chiu (Yr 10 17TF) and Mrs Celebrin
Week 3: Josef Lewis (Yr 8 35CB), Jeremy Hibbert (Yr 8 9ML) and Mrs Mantellato
Week 4: Roy Kim (Yr 11 24NM), Zachary Knight (Yr 10 35MG) and Mr Carpenter
This has meant that just over 16% of students and 38% of staff have made the effort to avoid bringing single use plastics to school and a lot of those students and staff are now trash free everyday – well done to those students and staff and a massive thank you to parents and carers for their support!  We are looking at getting 20% of students on board by the end of the term. There have been a lot of creative lunch options students have brought in over the last four weeks! To help parents and carers with ideas we will be sharing them in our next correspondence.
The Environment Portfolio would like to acknowledge and thank the following businesses for supporting this initiative by donating vouchers:  Flip Out, West Gosford; Clip 'N Climb Central Coast; Ten Pin Bowling, Bateau Bay; Kincumber Indoor Sports; Kincumber Gym; Central Coast Council (NSW Government Love Food Hate Waste campaign); @un-trashy and our Cafeteria.  If you have a local business and would like to support this initiative we would love to hear from you – please contact Mrs Beynon on 4321 6478.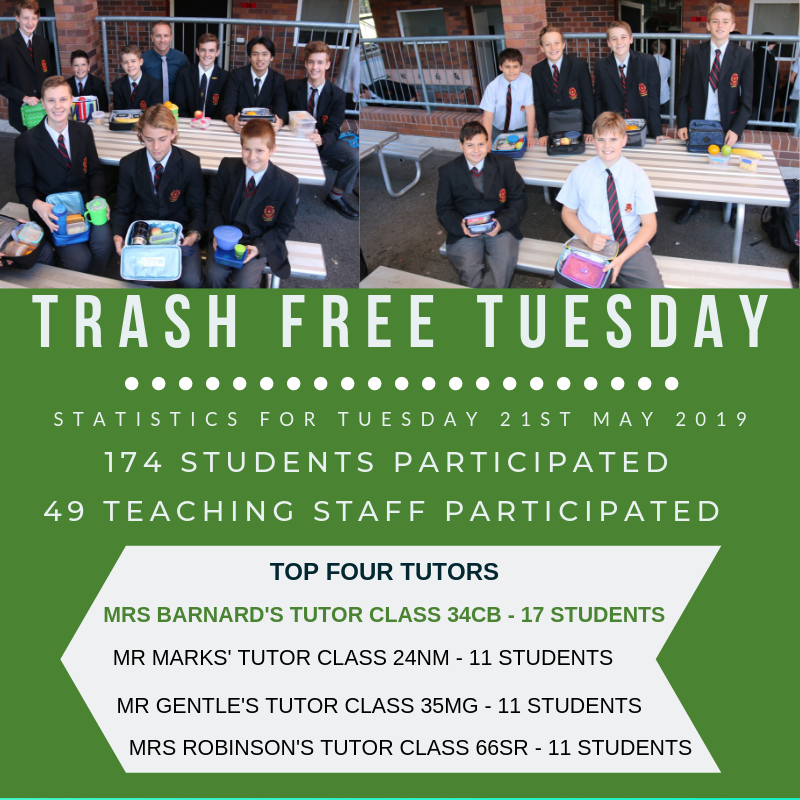 Our 10c Return and Earn scheme is continuing, our last collection was at the end of Term 1 with 1,527 containers diverted from landfill which helped to raise $82.70.  We would like to make special mention to Harrison Stiffle and Thomas Hunt both of Year 8 on returning 5 full orange Envirobank bags!  Well done boys on earning 10 Waterford Hours and 10 Tatham Points so far!
This is a great opportunity to have a conversation that we should all be mindful when discarding drink containers, particularly those that are purchased through our Cafeteria.  The cafeteria sells approximately 200 drinks per day – all of these drink containers can be placed in the Envirobank cages located in the Quad and TAS areas or yellow bins around the grounds.