CSBB Volleyball Tournament
What a fantastic day at Niagara Park Stadium on 19 October.
This was the inaugural Broken Bay Volleyball tournament for indoor volleyball, replacing the beach volleyball tournament.
We had a tough preparation for the tournament – no net and no court to practice on due to Year 12 farewells and HSC exams. The boys didn't complain and we made the best of the situation by playing on Oval 1 near the waterfront amongst the trees (tough view). The first time the team played on a court was the first game of the tournament.
The boys were an absolute pleasure to take away. Their camaraderie, team spirit and improvement was impressive. Versatile and adaptable. They received many lovely comments from other staff and the professional photographer. They were so thankful, thoughtful, fun, polite and enthusiastic. Their parents must be doing a great job in raising them!
RESULTS
We won every game but one, the Grand Final. We were only pipped at the post by a more experienced team. DRAMA – Despite breaking his ankle in the first game, Cohen arrived back at the courts from his hospital visit to cheer on the team in the grand final….now that's commitment (as was his attendance at every trial and training session).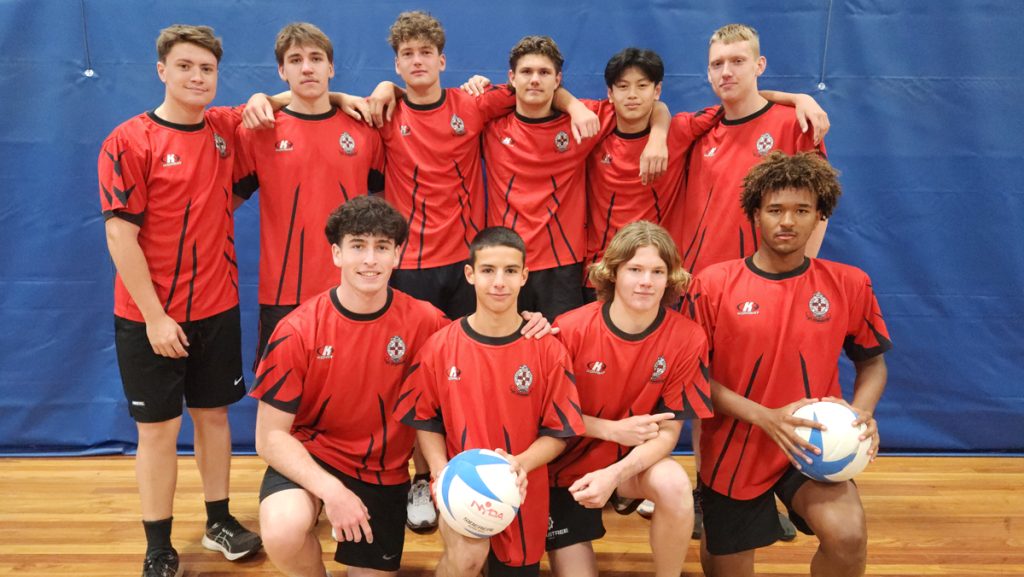 St Edward's defeated MacKillop 32-24
St Edward's defeated St Brigid's 41-23
St Edward's defeated Mater Maria 44-27
St Edward's defeated St Leo's 34-30
Semi Final St Edward's defeated Mater Maria 42-27
Grand Final  St Edward's Lost to St Leo's 30-35
Introducing the team:
Eason Zhang (Yr 10) – Most Valuable Player (lethal serve and smash, dead calm, accurate digs/sets).
Year 11
Andrew Hodge – Smiling assassin, improved tremendously throughout the tournament and showed great patience and humility.
Angus Jack – MVP from Late Selection (so glad you made it Angus – superstar).
Cohen Danvers – Worst injury (broke his ankle and tore ligaments – 1 minute into first game and on his 2nd touch of the ball)
Ellis Milson – Proved height is not obstacle time and time again. Best side line dancer.
Finn Palmqvist – Most improved (lucky he heckled Mrs Henderson until she put him in the team – gun!).
Hudson Sky – Most enthusiastic to continue playing after the tournament.
Jesi Wanjohi – Runner Up Most Valuable Player (accurate serve/dig/set, dedicated back up, smart thinker).
Nate Vaughan – Runner up injury and "Can you put me next to Jesi, we're a good combo" award
Rex Allwood – Most confident about our team's ability and told everyone.
Vanessa Henderson – Coach