Careers – UAC Information, University Early Entry and Scholarships
Charles Sturt University – Don't Miss Out on the Advantage
Round one applications for Charles Sturt Advantage early offer program are closing soon.
We're looking at Year 11 results and searching for people with soft skills. All students have to do is answer three questions to show us the qualities we're looking for. Jump online to see how easy it is to apply.
Click Here for More Information
Key Dates
Applications for round one close – midnight 31 May
Offers made for round one – late June
Start your course – February 2022
---
University of NSW Sydney
Year 12 Degrees and Scholarship Information Evenings
Tuesday 15 June and Thursday 17 June
6.00 pm to 7.05 pm
The Roundhouse – UNSW Kensington Campus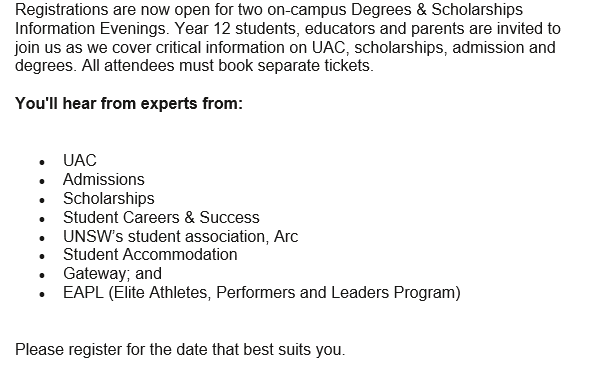 ---
UAC Digital Online Events
Click Here for all Online Event Information

---
Bond University
In a disrupted world, Year 12 students have shown incredible resilience in adapting to the ongoing challenges presented by the events of recent years.
Bond University is committed to continuing to support students. Continuing an initiative developed in 2020, in 2021 we will assess applications based on first semester Year 12 results, for entry to Bond in 2022. 
Click here for more information.
---
Australian Catholic University
Experience ACU, spend time at a campus, choose a workshop.
Click here for more information
Open Day 2021: This year ACU is planning to run Open Day as a physical events in July and August, as well as having a virtual component to meet the needs of a post-COVID world.
Click here for more information
---
ADF Gap Year Information
An Army Support Gap Year role is a unique opportunity for students to experience life in the Army, without needing to make a long-term commitment. The skills obtained through the Army Support Gap Year program will provide them valuable work and life experience, which are transferable to civilian employment opportunities. It enables Gap Year members personal and professional development for their next endeavour. 
In an Army Support role, recruits will learn logistic and task management skills to ensure the Army has the necessary supplies for exercises and humanitarian operations. Gap Year recruits can experience what life in the Army is like in one of three rewarding Army Support Gap Year roles. They may assist in the movement of supplies as a Driver, manage logistics as a Warehouse Coordinator, or become the point of contact within a unit as an Administration Assistant.
Gap Year applications are closing soon. Explore more about the Army Support Gap Year. Click a role below or contact Defence Force Recruiting on 13 19 01 for more information.
---