Careers – University Information
---
See below for the latest information from Universities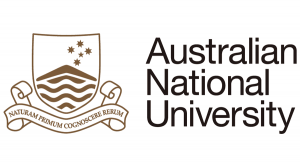 Thursday 2 September 4-5pm: Student Support Services
ANU is dedicated to supporting students throughout their studies, from academic skills and careers advice, to counselling services and ensuring equal access & inclusion for all students. The ANU Engagement & Success team will join us for this session to let you know how ANU can help you to get here, stay here, and be part of the ANU community.
Friday 3 September 4-5pm: ANU Application Information (repeated session)
This session will cover the 2021 timeline for offers and acceptances, changing your degree preferences, and managing your offers for scholarships and accommodation. The ANU Admissions team, ANU Coursework Scholarships team, and ANU Accommodation Services team will present information about what happens next with your application, and you will have an opportunity to ask questions about what you need to do between now and the end of the year (N.B. this information will be repeated in other sessions).
You can register for multiple sessions, so please indicate all of the sessions you are interested in; the link you receive will give you access to all you registered sessions.
If you are unable to attend a session, you can still register your interest so that we can send you the recording links after the session.
Don't miss out! Register now
---
Alternate Pathways to University Webinar
---

What's on in September?
Discovering advanced computing | Wed 1 Sept, 4 – 4.30pm AEST
This webinar will cover what you will study in the Bachelor of Advanced Computing, the career outcomes and professional accreditation.
Experience in engineering | Wed 1 Sept, 4.45 – 5.15pm AEST
Learn about industry engagement at the Faculty of Engineering, the professional engagement program and scholarships. Discover the University of Sydney and what sets us apart.
ARTiculate Geography with Political Economy | Wed 1 Sept, 5 – 5:45 PM AEST
From the food we eat to the mobile phones we use, our lives are linked to the global economy. Explore themes like globalisation and climate change while learning about the everyday life of the economy.
ARTiculate French Continuers and Extension | Wed 8 Sept, 4 – 4:45 PM AEST
Join us in this french-spoken interactive webinar focusing on "French-speaking communities". We will explore its meaning, origins manifestation in different continents and legacy in contemporary France.
Overview of October
Project Management Online Spring Camp | Friday 1 October
This online program offers an excellent opportunity for high school students to learn about project management. To apply please RSVP here. Applications close: 24 September 2021 5:30pm AEST.
Innovation Hub's upcoming Festival | Wednesday 13 October 
Are you in Year 10 and 11 and interested in innovation opportunities? Join our panel on the Major in Innovation and Entrepreneurship held in partnership with the Spark Festival! The session will be recorded for Year 12 students.
Scholarships, entries and pathways
Sydney Conservatorium of Music – Auditions Open
Students who would like to study at the Sydney Conservatorium of Music in 2022 will need to register their audition, portfolio or interview. July round videos are due by 12 August 2021. September round audition registration closing date: 19 September 2021. Auditions will be online or video submission.
Sydney College of the Arts Porfolio Submissions | Friday 24 September
Students wishing to study at the Sydney College of the Arts in the Bachelor of Visual Arts or the combined Bachelor of Visual Arts/Bachelor of Advanced Studies in 2021 will need to submit a portfolio of their artwork before midnight on Friday 24 September.
Future Innovators Awards | Submit by Thursday 30 September
The Future Innovators Awards are open to all Year 12 students at NSW high schools and reward future leaders for their creative business solutions to wicked social problems. Award winners will receive a prize pack and consideration for a $6,000 Sydney Scholars Award when they enroll at the University of Sydney Business School.
Need help applying for Scholarships? Try our Scholarship Builder
The Scholarship Builder provides a step-by-step guide on how to craft application responses. For some inspiration, students can also learn about the stories from some of our current university students.
---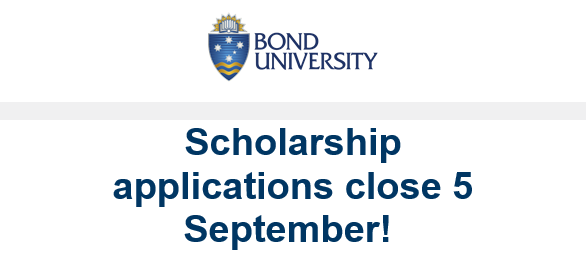 Scholarship applications are currently open and close Sunday, 5 September, 2021.
All applications must be completed by this date as no late applications will be accepted.
Students must follow the below two steps to be considered for a scholarship.
Step One – Complete the Bond University Study Application Form at student-bond.studylink.com.
Step Two – Complete the Scholarship Application Form at student-bond.studylink.com by searching 'scholarship'.
Click for the Scholarship Application Guide
---

Open Days Online – Register Now!
Monday 6th to Wednesday 8th September
We've got lots planned and we'd love to see you online.
Join us for live information and Q&A sessions, virtual campus tours and live chat with current University of Newcastle students to find out everything you want to know about uni life!
Register now and go into the draw to win a pair of Beats by Dre Headphones!
Early Entry Schemes for Law in 2022
Newcastle Law School is offering two Early Entry Schemes into the five-year, full-time program, in which students will complete the Bachelor of Laws (Honours) alongside another degree program of their choice.
Students could receive an early offer before beginning their final HSC exams.
Indigenous Early Entry Scheme
Opportunity for Indigenous students to gain early entry into our Law degree. Applications close 12 September 2021. Find out more here.
Refugee Early Entry Scheme
Opportunity for students from a refugee background to gain early entry into our Law degree. Applications close 13 September 2021. Find out more here.
Please share this information with any interested students.
2022 Accommodation Applications Opening 7 October
Semester 1, 2022 accommodation applications will open on Thursday 7 October. Students will be required to pay a $100 application fee.
To ensure an easy application process, we encourage students to register a profile on the Student Living Accommodation Portal.
Students can view our different accommodation options on our website.
Accommodation applications are extremely competitive, with hundreds of students applying to live on campus every year.
We encourage all students to be ready to apply as soon as applications open to ensure the best possible chance of living on campus next year!
---
Course changes in science and information technology in 2022 (subject to Academic Board approvals):
Bachelor of Agriculture has had a name change and now has early exit points with the Diploma of Biological Sciences or Associate Degree of Agriculture
Bachelor of Cybersecurity can be taken as a double degree with commerce, criminology or psychological science. Our new Diploma of Information Technology can be used as a pathway option to cybersecurity
Bachelor of Information Technology students at the Melbourne campus can now choose from six majors aligned to future industry growth in either: software engineering, cloud analytics, artificial intelligence, network engineering, information systems or data science. Our online version of the course offers greater flexibility including software engineering and cloud analytics as available majors. Students can opt to graduate sooner with a Diploma of Information Technology or Associate Degree in Information Technology
Bachelor of Science students can choose from up to 17 majors (depending on the campus), including new offers such as climate change, cybersecurity and artificial intelligence. There also options to graduate sooner with our Diploma of Science and our Associate Degree in Science.
More entry and exit points mean more pathway opportunities and the chance to graduate with a Diploma after just one year of study.
Simplified process for scholarship applications
As of 2021, La Trobe scholarship applications have moved to VTAC. Students now only need to fill in one form to apply for equity and access scholarships and bursaries.
The Regional Benefits Program scholarship will automatically be applied for eligible students when they enroll at a regional La Trobe campus. The Regional Benefits Program supports high achieving students to study, live and thrive in regional Victoria.
Scholarship applications are open from 2 August – 8 October 2021. For full details on how to apply visit VTAC.
For other scholarship opportunities, including those provided by La Trobe and external philanthropic organisations visit our Scholarships site.
---
ENGINEERING your future
We are pleased to announce the Engineering your Future platform is now live!
Every Monday at 5pm there will be a 1hr information session on various aspects and disciplines of Engineering.
These events will start Monday 30 August and conclude on Monday 29 November.
Students will need to register on the platform  Click Here
They will then be able to  Log in.
Students will be asked to input their email address (the one you used to register)
A One Time Passcode will be sent to their inbox from Jomablue – check spam/junk if they do not receive in a couple of minutes.
Input the OTP on right hand side of screen under their email address
Navigating Engineering your Future
Once logged in, students should have a look around!  There is loads of information!
Explanations of each Monday session
Photos & introductions of the speakers involved
Introductions to our accredited Engineering Universities (ACT, NSW, NT)
Links to the companies showcased in the weekly sessions
and great videos of our Inventors & Innovators  (I am often asked why there is not a degree in Invention –it is because it is called Engineering!!)
Subscribe to Create Digital for daily updates into the inbox!
https://www.createdigital.org.au/subscribe/
There is also the amazing Engineering Heroes podcast!  another bit of Engineering fabulousness!
https://engineeringheroes.com.au/
---

LEADERS AND ACHIEVERS EARLY ENTRY SCHEME REOPENS
At Macquarie, we recognise the anxiety and uncertainty experienced by Year 12 students at this time. With the delaying of HSC exams and ATAR release, their ability to plan for university is also impacted.
An early offer can give students peace of mind and certainty about their future at university. Following the latest announcements for Year 12 students by the government, we have reopened applications for our Macquarie Leaders and Achievers Early Entry Scheme.
This important change will help support students concerned about their university placement, and we hope goes some way towards addressing the pressure, anxiety, and stress that all Year 12s must be feeling with the changing circumstances.
The Scheme is now open and applications will close Sunday 19 September.
We are also encouraging students to apply for admission to Macquarie via the Schools Recommendations Scheme (SRS). This Scheme also closes on Sunday 19 September.
Students can find out more information about these early entry schemes and determine which best suits their personal circumstances via the Macquarie University Year 12 Early Entry Schemes page.
Our Contact Centre is open 9am – 5pm, Mon-Fri to help with any enquiries students, teachers or parents may have. Ph: (02) 9850 6767 or futurestudents@mq.edu.au.
We also have Year 12 Personal Consultations available 3.30pm – 7pm, Tues-Thurs where students can speak to an expert adviser about their university options.
Book a consultation here.
---

5 COVID Adjustment Points for Year 12 students applying to the University of Newcastle
2021 has again proven to be a challenging time for year 12 students and we continue to look for ways to provide additional reassurance and support for your students.
We are pleased to announce that we will be providing all school leaver students with 5 adjustment points for all programs (excluding the Joint Medical Program).
These additional adjustment points are in recognition of the extraordinary challenges year 12 students have faced since the start of last year. We would love to see these extra points providing encouragement for students to continue to strive for their best results in the HSC.
The 5 adjustment points will automatically be applied by UAC and there is no need for any additional application. Students are eligible for a maximum of 12 adjustment points.
We also wanted to let you know that despite the delay in ATARs, we will still be providing students with a pathway to receive an offer prior to Christmas. Our Schools Recommendation Scheme (SRS) offers will be released from November Round 1. This is an important pathway for our school leaver cohort. Nearly 50% of our commencing school leaver applicants came in through the SRS last year, so we would encourage as many of your students to apply before the September 19 deadline (see here for more details).
We are very excited to share this with you and continue to provide support and reassurance for your students. If you would like further information, please reach out to your Future Students team contact.
---