Careers – University Information
Please see the links below for the latest information from universities.
---

2023 Open Days
We look forward to welcoming you on campus for our 2023 Open Days!
Our Open Days are packed with everything you need to know about going to the University of Newcastle. Participate in degree presentations, info sessions and tours of the campus. Enjoy a hands-on experience with our program activations, and ask our student ambassadors questions about uni life.
Central Coast – Saturday 29 July
Newcastle – Saturday 26 August
Register now via our website and start to plan your day. Please click here for Central Coast and Newcastle Open Day Facebook events to share with your school community.
Webinar Recordings
Please click links below to access the recordings of our recent webinars:
Our FREE Winter NUPrep Short Courses begin soon!
If students are looking for a head start to uni, recommend a FREE NUPrep short course. Students can study in person or online and many courses are available in the upcoming school holidays. Students can familiarise themselves with university systems and get a taste of university style study, all before they complete their HSC.
Check out our website and select "I am a community member" to browse the courses available. Enrolments are open now.
Early Entry Program Applications Are Now Open!
Our free Early Entry Program means students can receive an offer from us before commencing HSC exams. Offers are conditional based on students completing the HSC or equivalent.
Students can apply now via our Early Entry portal.
Visit our website for more information about our Early Entry Program including our FAQs.
Engineering
Gain insights from our esteemed academics surrounding the study experience at our University. Learn about both current and future employment opportunities from our leading industry representatives.
You will also get plenty of time to ask questions to help you on your journey to study with us.
Engineering | Wednesday 5 July – 5:30 – 6pm
This session is designed for those looking to study in the areas of engineering, including: aerospace systems, chemical, civil, computer systems, electrical and electronic, environmental, mechanical, mechatronics, medical, mining transfer, renewable energy and surveying.
Register here
If you have any questions or concerns, please don't hesitate to get in touch with the team at CESE-EngagementOutreach@newcastle.edu.au
---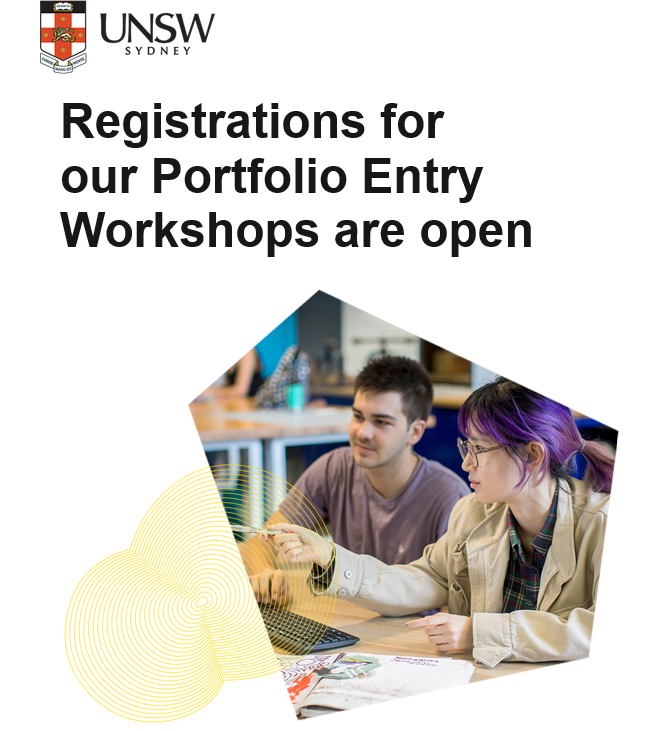 The UNSW Portfolio Entry Early Conditional Offer Scheme provides an opportunity for students to showcase their creativity, passion and potential to succeed in their chosen degree area.
For students interested in securing an early conditional offer for Term 1, 2024, they can now register to our Portfolio Entry Workshops. Students will learn how to submit an outstanding portfolio for eligible degrees across Arts, Design & Architecture and Engineering.
In-person workshop | Arts, Design & Architecture only 
Wednesday, 12 July (11am – 12pm)
UNSW Art & Design, Paddington
Online workshop | Arts, Design & Architecture and Engineering 
Thursday, 13 July (6pm – 7pm)
Online
---

The world of business is a rapidly evolving industry that needs skilled people to drive success in the digital era. The National Skills Commission has identified data analysts, project managers and online marketers among the emerging occupations in Australia.
At La Trobe, we're training the next generation of business graduates.
Our courses connect students with industry experts and mentors with a real focus on digital technology, data and analytics. Work-placements and real-world experience are embedded into our courses so students graduate ready for work.
Courses that lead to emerging careers
Business and data analytics
Technology is evolving at breakneck speed. Help businesses turn their insights into meaningful business solutions that keep them ahead of the competition.
BACHELOR OF BUSINESS ANALYTICS   
Management and change
Choose from majors like enterprise, digital business or management to get the knowledge and skills required to contribute effectively to business creation, development and change.
Online marketing
Our marketing major teaches students specialised knowledge of the digital era. Focus on future trends in marketing and graduate career ready.
Students can get ahead with Aspire
Webinar: Aspire Early Entry Program
Tuesday 27 June at 5pm
With multiple streams to choose from, there's something to help every student reserve an early place in their preferred course. Encourage your students to come along to our webinar or come along yourself if you'd like to learn more about the Aspire early entry options.
Carlton College: careers in sport
If your students are keen for a career in sport, Carlton College of Sport's partnership with La Trobe provides an accelerated pathway for individuals chasing a career in high-performance sport.
Courses available:
Diploma of Elite Sport Business
Diploma of Sport and Coaching Development
Unlike other diplomas, both diplomas are facilitated and run by academics of La Trobe University.
It's time to get real at Open Day
Open Day key dates
Sunday 6 August: Melbourne Campus
Wednesday 9 August: Mildura Campus
Sunday 13 August: Albury-Wodonga Campus
Wednesday 16 August: Sydney Campus
Saturday 26 August: Shepparton Campus
Sunday 27 August:  Bendigo Campus
---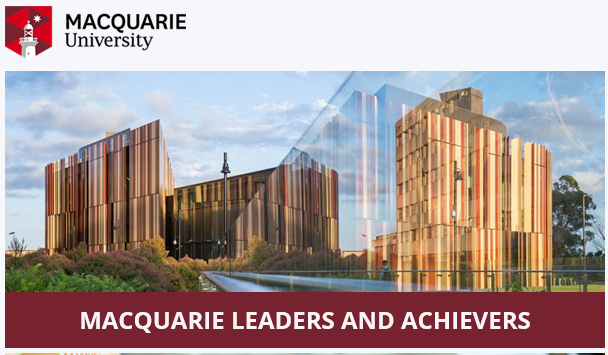 The Macquarie Leaders and Achievers Early Entry Scheme has opened. We are receiving more and more applications each week, and want to ensure your students have the best chance for a positive outcome from their application.
Encourage students who have done well in Year 11 to apply.2. Ensure students diversify their preferences. We recommend choosing a range of degrees with varying entry requirements (by using published selection ranks as a guide).

3. Activities provided by students must demonstrate leadership skills, personal development and dedication through extracurricular activities (see website for examples).

4. Students must remember to answer all parts of the reflection questions, including how their activities link specifically to their decision to apply for a degree at Macquarie University and how they will make a positive contribution to engagement with the Macquarie University community.

Double-check all parts of the application are included and correct before submitting, as no changes can be made afterwards.
EARLY ENTRY WORKSHOPS
Book a workshop specifically about Macquarie's Leaders and Achievers Early Entry Scheme. We will explain how it works, allow time for questions and provide an opportunity for your students to bring and start their application on the day.
Email us at schools@mq.edu.au to request a Macquarie Leaders and Achievers Early Entry workshop
ACTUARIAL STUDIES CO-OP PROGRAM
Closes September 2023
Our Actuarial Studies Co-op program is a highly competitive course in which students alternate between classroom studies and workplace experience.
For 2024 entry, Macquarie Uni is offering a Co-op program for Actuarial Studies only. We will provide updates on other work integrated learning opportunities as they become available.
WEBINAR SERIES FOR STUDENTS 
All sessions are from 6:00 – 7:00pm. 
We've added two NEW webinars to provide updates and information for students interested in Psychology or Business and Commerce.
Psychology at Macquarie  – 5 July (NEW)
Business and Commerce at Macquarie – 12 July (NEW)
Relocating to Macquarie – 19 July
---