Careers – University Information
Please find below information regarding Universities.
---
NEW EARLY ENTRY PROGRAM
This year we are excited to announce our NEW EARLY ENTRY PROGRAM. Our Early Entry Program provides students with the chance to receive an offer to the University of Newcastle before the HSC*.
Applications are FREE. Early Entry Program benefits include:
HSC study support to help students achieve the best results from Year 12
Free preparation courses to make sure students get the most out of uni
Invitation to VIP events throughout the year
Invitation to our student leadership program
We are currently working with UAC to finalise details of the program including confirming application and offer dates in the coming weeks. When confirmed, we will be holding a webinar for Careers Advisers to share information about the new Early Entry Program.
The Future Students Team will be in touch with webinar registration information when available.
For more information visit newcastle.edu.au/early
*Offers contingent on completion of the HSC.
2023 Key Dates
We have locked in some key dates to assist with your 2023 planning. Please see list below for some of the University of Newcastle key dates. Further updates on upcoming activities will be provided as available.
For information on any of the below activities please contact your Future Students regional contact.
Parent Info Session
Audience: Parents/Carers of Y12 Students
2 May Location TBC
New Degrees/Diplomas/Enabling Zoom Webinar
Audience: Career Advisers
4 May
TAFE 2 Uni Zoom Webinar
Audience: Y12 Students/ Career Advisers
9 May
JMP Info Session Zoom Webinar
Audience: Y12 Students
10 May
Y10 Subject Selection Zoom Webinar – Parent Info Session
Audience: Y10 Students and Parents/Carers
31 May
Central Coast Open Day 
Ourimbah and CCCS Gosford Campuses
Audience: Whole School Community
29 July
Newcastle Open Day 
Callaghan and Newcastle City Campuses
Audience: Whole School Community
26 August
---
UCAT 2023 Registrations are now open!
Candidates taking the UCAT ANZ in 2023 for entry to universities in Australia and New Zealand in 2024 should note these key dates.
UCAT ANZ 2023 Key Dates 
| | |
| --- | --- |
| Concession Scheme opens | 1-Feb-23 |
| Access Arrangements open | 1-Feb-23 |
| BOOKING OPENS via ucat.edu.au | 1-Mar-23 |
| Concession application deadline | 10-May-23 |
| Access Arrangements application deadline | 17-May-23 |
| BOOKING DEADLINE | 17-May-23 |
| Late booking deadline | 31-May-23 |
| FINAL late booking deadline | 5-Jun-23 |
| Cancellation deadline | 10-Jun-23 |
| Testing begins | 3-Jul-23 |
| Last testing date | 11-Aug-23 |
| Results delivered to universities | by early September 2023 |
PLEASE NOTE: UCAT registration is only via the UCAT ANZ website – ucat.edu.au
Who is eligible to sit the UCAT?
The UCAT ANZ test is only available to a candidate whose educational level at the time of sitting the test is that they are undertaking or have completed the final year of secondary schooling, or higher. For example, candidates registering for UCAT ANZ 2023 should have completed, or plan to complete their final year of secondary schooling in 2023, that is, Year 12 in Australia or Year 13 in New Zealand.
Candidates are eligible to sit UCAT ANZ if they have commenced or completed an undergraduate degree.
It is noted, however, that not all undergraduate degree programs for which UCAT ANZ is a prerequisite will offer places for non-school leavers. Candidates are advised to check the UCAT ANZ Consortium university websites for further information.
Only a limited number of UCAT ANZ Consortium universities require international students to sit UCAT ANZ and, if so, it will only be required in specific circumstances. Candidates are advised to check the UCAT ANZ Consortium university websites for further information.
Reference: Pearson VUE, 2023
What's on at NIE
Coming up
Simulated UCAT Day
Intensive UCAT Training Workshop – Live Online Interactive
5 March 2023
Complete UCAT Courses – various levels of preparation and options available to meet individual student needs.
UCAT Preparation Workshop – 5 sections of the UCAT covered + full mock exam  + introduction to medical interviews.
UCAT Training Platform – Medify UCAT Platform: 1000s of practice questions, full practice tests, tutorials, and much more.
UCAT Textbooks – recommended list of textbooks to support your UCAT and Interview preparation.
Medical Interviews Workshop – lift your performance above the competition, validating your sincerity and burning positive lasting impressions into the minds of the selection panel.
Universities and the UCAT Requirements
---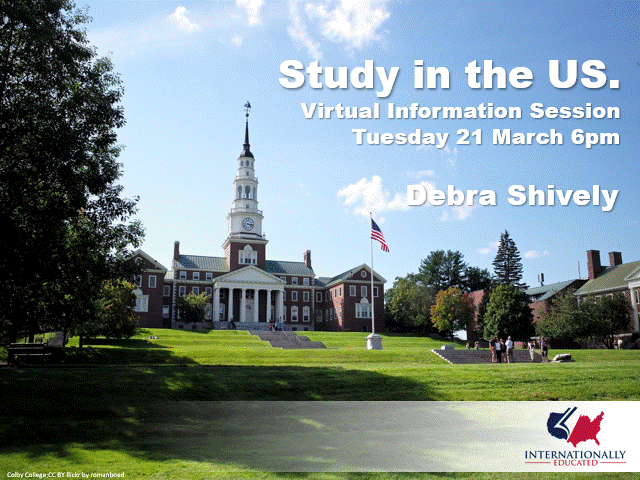 Students are invited to attend our next 'Study in the US' virtual information session. The session will draw from my experience working as Assistant Director of Admissions at a US university and cover the application process as well as the higher education system in the US. We've seen a substantial increase in interest and successful student application outcomes, even comparing to pre-covid times.
Study in the US.
Tuesday 21 March at 6pm AEDT
Further information and registration can be found here.
The presentation is best suited for students in years 9, 10, 11 and 12.
Debbie Shively
Internationally Educated
02 8006 9737
---
Return to Newsletter