Careers – University and Post School Study Options
Please see the links below for the latest information from universities and post school study options.
---

Parent Information Evening
The ICMS Parents Information Evening offers valuable support for parents in guiding their school leavers through the transition to higher education. The event covers essential topics, including:
Insights into the complex Universities Admission Centre (UAC) preference process,
Key dates and entry requirements for 2024 applicants,
Tuition fee-related options like FEE-HELP and High Academic Places, and
Details on ICMS's industry-driven teaching methods.
Additionally, attendees will learn about ICMS's Work Integrated Learning program, hear from a current student about their experience, and gain a parent's perspective on choosing ICMS.
The evening includes a chance to mingle with faculty academics for course-specific discussions, and it concludes with a panel Q&A session. Free parking is available on campus, and the event can also be live-streamed on Facebook for those unable to attend in person. Register now to secure your spot!
---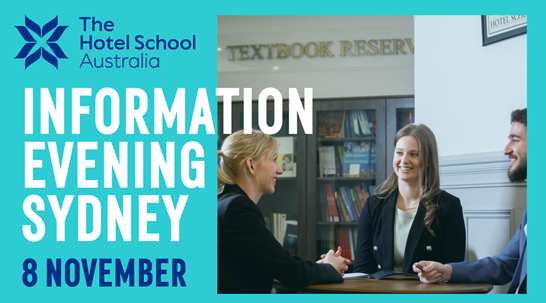 Are you interested in embarking on a journey that will take you around the world?
We are excited to introduce you to the endless possibilities of a degree in Tourism and Hotel Management, a field that opens doors to global adventures and exciting career prospects.
As you approach the pivotal moment of choosing your career path, deciding your future area of study can be tricky. Whether you dream of managing luxury hotels, overseeing one-of-a-kind events, or starting a global career, The Hotel School's Southern Cross University courses can transform that passion into a rewarding career.
We would like to take this opportunity to invite you to come along to our campus to meet our friendly team and students, discuss our courses in detail and enjoy a tour of our CBD campus.
Students can register by clicking on the button below.
Information Evening
Wednesday, 8 November 2023
5:00pm – 7:30pm
60 Phillip Street
Sydney NSW 2000
Session highlights include:
Find out about our courses and meet faculty team members and the Head of Campus
Discuss career opportunities with the Work Integrated Learning team
Get guidance on the application process, scholarships, and financial aid
Chat with our current students
For more information:
Anne McCrory
National Schools
Channel Manager
0409 034 962
anne.mccrory@scu.edu.au
---

Introducing the Financial Markets Institute of Australia (FMI), a VET accredited RTO.
Our Diploma of Company Analysis and Portfolio Management is Australia's only government accredited and nationally recognised training in company analysis and portfolio management.
Open to school leavers, our diploma is 100% online, and is a proven pathway to employment.
We are seeking students who are considering a degree at university, with the aim of working for a leading employer, because there is important news they need to be aware of. The fact is, a degree is no longer required to gain entry level, professional trainee roles.
Furthermore, our diploma is faster, cheaper, and better than a degree. The links below explain more.
The ideal student has good numeracy skills, is fluent with a spreadsheet, and has a strong interest in the subject matter.
Following is more information about our diploma for parents and students.

Student-Handbook.pdf
---