Careers – Traineeships, Apprenticeships, Job Opportunities
Please see the links below for traineeships, apprenticeships and opportunities available:
---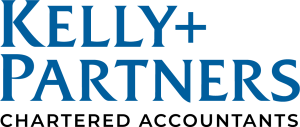 About to leave school, have you ever considered an exciting opportunity in Accounting? Be part of something amazing where we want you to #bebetteroff
Award Winning, ASX listed, AFR Top 25 Accounting Firm
2021 / 2022 Great Place to Work® and B Corp Certified
Winner of Employer of Choice 2022 Australian Business Awards
Kelly+Partners Group (ASX:KPG) is one of the Australia's most progressive and fast growing financial services groups across accounting, wealth, finance and investing. Established in 2006 and growing at over 30% per annum, we are a certified Great Place to Work (2021 and 2022) and B Corp company who operate with a clear mission: to help the people, businesses, and communities we serve be better off.
As an organisation, everything we do is guided by a set of principles that define our character and culture. As a team we strive to live out our values each and every day:
Want The Best For Others
Does What They Say
One Team, One Best Way
To be considered for this role, you will need to be enrolled in Commerce (Accounting) degree at university or, willing and eligible to enrol.
Why join us at Kelly+Partners?
In addition to working in an organisation that is committed to offering the best services and opportunities to both our clients and our team, you will also have the following benefits:
Real and attainable career progression
In depth mentoring by your Client Director
Genuine commitment and access to bespoke learning and professional development
Opportunity to have equity ownership in a growing business
Collaborative, dynamic and engaging culture
Accessibility and proximity to our senior leadership team including our Founder and Chief Executive Officer
For further information please contact Helen on 0403886194 or email helen.piazza@kellyaprtners.com.au.
---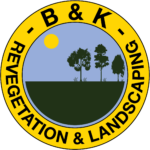 Apprenticeships Available
B&K Revegetation & Landscaping is a Commercial Landscaping company, specialising in large scale commercial landscape and revegetation projects across NSW. We are looking at employing a number of Apprentices to undertake either:
Certificate III In Landscape Construction
Certificate III Parks and Gardens
Combining formal study through TAFE (1 day per week) and paid on-the-job training is a great way to obtain a Nationally Recognised Qualification and practical skills.
We are looking at engaging the Apprentices as soon as we can so that they can commence at TAFE next year.
Lyndall Hughes
Commercial Manager
Telephone:  02 43844159  Mobile:  0448 403 154
E lyndall.hughes@bkreveg.com.au  W www.bkreveg.com.au
---
---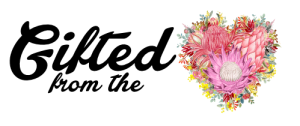 We are a Central Coast (West Gosford) business  having recently relocated from Brisbane
We are interested in hiring a junior worker  for the office which is an import wholesale and retail operation, packing orders of small jewellery items for dispatch. There is also personalised gift production using laser and UV printing.
The office is a new fit out, air conditioned and clean environment.
We are looking for someone who has a good work ethic, an eye for detail, works well as part of a team and is very reliable. There would be the opportunity for the candidate to also learn to use a laser and UV printer so ability to use basic computer software and some dexterity with/ interest in  machinery would also be helpful
The role is permanent and full time 38 hours per week.
Award rates and conditions are provided including superannuation and all leave requirements.
If you have someone you feel would be a good fit kindly contact us is you need further details.
Kathryn : 0431626388
Kind regards,
Kathryn Weir
Gifted from the Heart
Unit 19 , 13 Gibbens Road West Gosford, NSW, Australia 2250
Email : customer.care@giftedfromtheheart.com.au
Website : www.giftedfromtheheart.com.au
---

We currently have a full time traineeship for the 2023 AFL Young Leader Program for your school leavers.
Would you please pass this information onto your current grade 12 students.  If they wish to apply for the position, please provide them with the links below.
https://aflsportsready.com.au/jobs-board/2023-afl-young-leader-program/
https://www.seek.com.au/job/58931189
If you have any questions, please do not hesitate to contact me.
Cheers.
Christine Clifford
Field Officer (NSW/ACT) (Mon, Tues, Thurs)
AFL SportsReady
Level 1, Building 220, Bent St
Moore Park NSW 2021
T: +61 3 8532 7200              M: 0459 934 589
E: christine.clifford@aflsportsready.com.au
---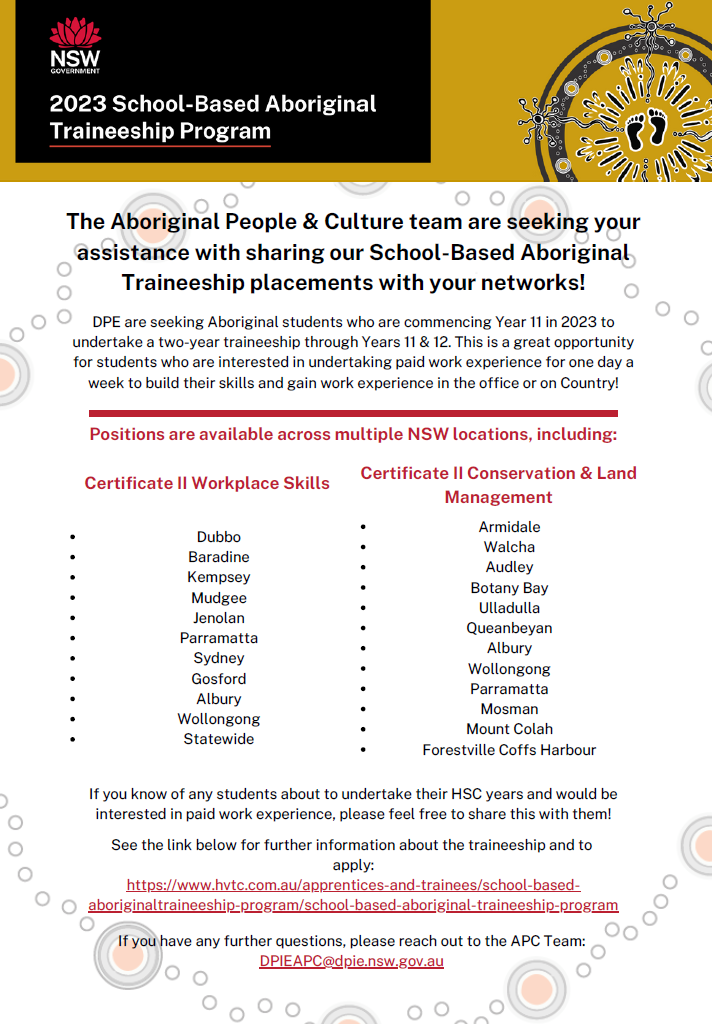 ---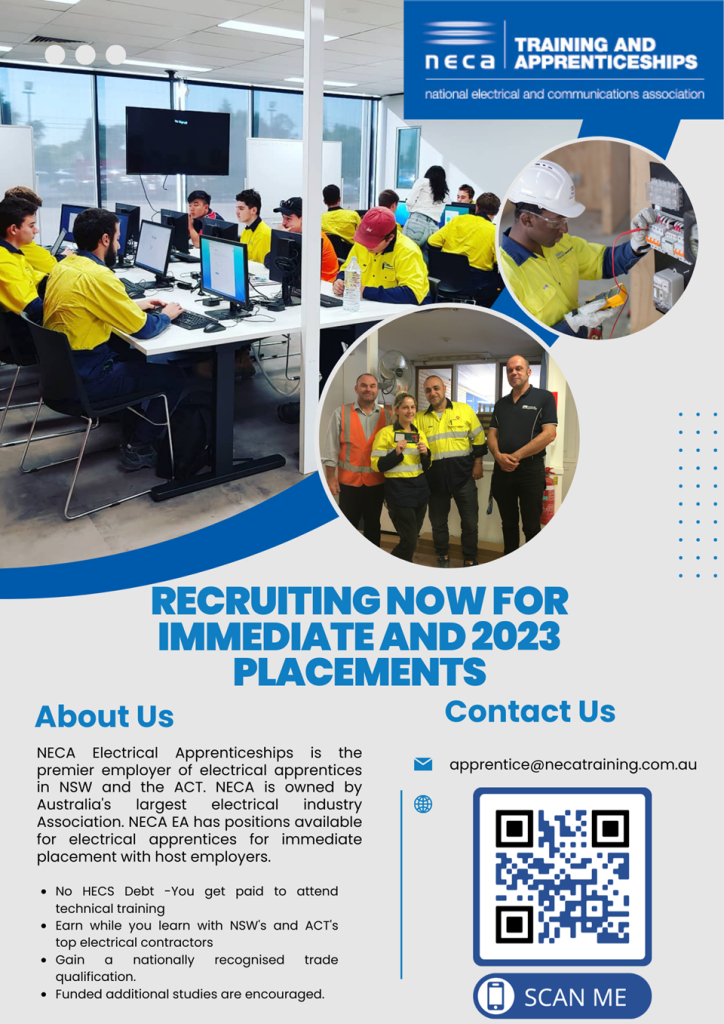 ---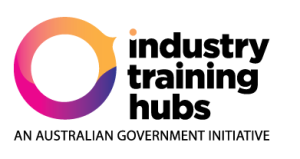 Please see below a list of great opportunities for Year 12 school leavers 2022.
Disability Support Traineeships (Part time) – 20 positions available – Tumbi Umbi – CA Care Services
Childcare Worker Traineeships (Full Time) – 6 Positions available – Wamberal – Alkira Early Learning Centre
Carpentry Apprenticeships (Full Time) – 6 Positions available – Berkeley Vale – Pluim Group
Engineering Apprenticeship (Full Time) – 4 Positions available – North Gosford – Pro Ali Design
Cabinet Making Apprenticeship (Full Time) – 4 positions available – Ourimbah – Affordable Wardrobes
For further information please send me an email.
MICHAEL BROLLY

m. 0490 125 830
w. www.businessaustralia.com
---
Micromex is a Market Research company located in the Tuggerah Business Park and we currently have positions available for Market Research Interviewers.
The hours of the role are from 5pm – 8:30pm weekdays and 10am-4pm weekends so fit ideally with High School Students around their studies, we also offer a very attractive rate of pay.
We would very much appreciate if you could share our current job advertisement with the relevant people (be it career advisors, etc.).
Follow this link to apply:
https://app.keysurvey.com/f/1154479/2b77/ http:/app.keysurvey.com/f/1154479/2b77/
Feel free to email any resumes of willing participants.
If you would like to ask any questions about our company, or speak with somebody prior to sharing our job ad, please contact:
(02) 4352 2388
We appreciate your assistance.
Kind Regards,
Matthew Johnston
(61 2) 4352 2388
---