Careers News
In Week 1, 65 Year 12 students attended a Macquarie University presentation about university life through the eyes of two of their student ambassadors.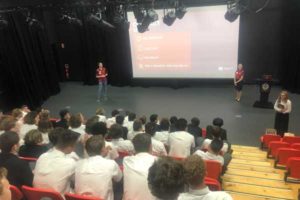 Students were also given their latest undergraduate course booklet and information on Macquarie University's Leaders and Achievers Early Entry Program.
Coming up:
Year 12
TAFE presentation,  9 May 2019
Newcastle University presentation, 23 May 2019
Apprenticeships,  30 May 2019
Economics presentation by Lecturer Dr Ha Vu (Macquarie University),  20 June 2019
Business presentation by Dr Troy Sarina (Macquarie University),  6 June 2019

Year 11
HSC and Careers Expo, 31 May 2019

Year 10
UAC presentation, 24 May 2019
Western Sydney Careers Expo,  28 June 2019

Year 9 Commerce Class
Mr Miller's class is participating in the $20 Boss Program this term.  Developed by Foundation for Young Australians, this program will develop students' enterprise skills; skills that are crucial for preparing students for the future of work.  The program gives students $20 of start-up capital to create, launch and operate their own venture over the course of Term 2.  Students will learn key elements of entrepreneurship and are taught how to make money and create social good.  Watch this space as we share with you their journey.