Careers Information, Links, Employment Opportunities
Macquarie University – Early Entry Scheme
If you're thinking about studying at Macquarie, have already been performing well at school in Year 11 and can demonstrate initiative and commitment through leadership, community, sport, or casual work activities, you can apply directly to Macquarie through the Leaders and Achievers Early Entry Scheme.   For more information see the link below.
---
TAFE are running a course on Introduction in Individual Support that will pathway to traineeships with Aged & Disability industry partners, also take a look at the TAFE NSW Student Resource guide.
---
Newcastle University
Degree Webinars
We have over 40 webinars covering a wide variety of degrees and study areas, as well as sessions on careers, enabling pathways, accommodation and scholarships.
Students will have the opportunity to hear from University of Newcastle academics and current students who will be sharing key information such as degree overviews, work integrated learning opportunities, career outcomes and time for Q&A.
To view and register, please visit www.newcastle.edu.au/degree-webinar-series
---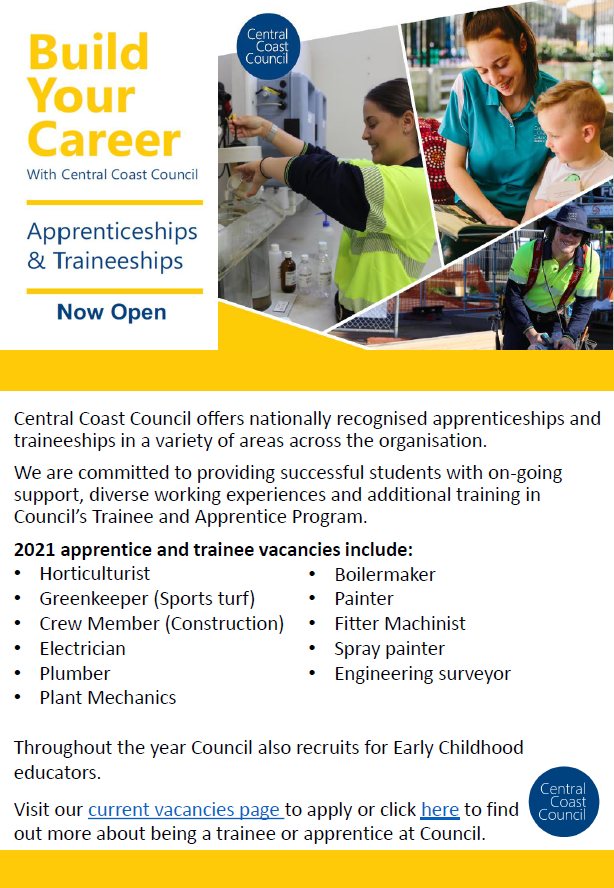 ---
Apprenticeship Opportunities – Join Sydney Trains in 2021!
 Are you looking to start a new career where you can combine hands on practical learning with theoretical technical training that will develop your skills and set you up with a well paid job and rewarding career for life? Then becoming a Sydney Trains apprentice could be just for you.
---

Lots of parents don't realise that students can study a vocational course at school, still get an ATAR and go to university, that they can start an apprenticeship at school, or that VET graduates start on higher wages than most univeristy graduates. In fact a lot of parents don't really know what VET is, full stop.
The Australian Parents Council is determined to try and help change this, so that parents can help their kids make smart choices about their future. And with everything that young people are facing at the moment as they venture into an uncertain world, there's never been a better time to help parents understand the full range of options available to kids in school and beyond.
So we are pleased to invite parents to be part of our free VET Myth busters webinar on Thursday August 27 7.30-9.30pm AEST.
The session is designed to answer parent questions about what vocational education and training is, and aims to provide up to date, relevant information so parents can help guide their kids into a rewarding career.
We'll explore the choices available to students, alternative career paths, apprenticeships and work placements, support for trainees, and the flexible options to help kids upskill and get ready for work.
Our panel of industry experts, training providers and careers advisors will be ready to answers everyone's questions. You can submit questions to the panel ahead of time via media@austparents.edu.au.
The webinar is open to all parents and students across Australia. Simply register via https://austparents.edu.au/event/vet-mythbusters-a-parents-guide-to-vocational-education-and-training/
---