Careers – Courses and Workshops for Students
Please see the links below for student courses and workshops available:
---
Courses & Workshops for Students
Campion College Summer Program | 17-20 Jan 2023
Experience college life and a taste of Campion's Bachelor of Arts in the Liberal Arts. Open to students aged 16 plus. Includes accommodation on campus, meals, social activities and sample lectures in history, literature, philosophy and theology. Free to attend but spaces are limited. Register at https://www.campion.edu.au/event/summer-program
Sydney Quantum Academy
Applications are now open for the Quantum Computing Summer Camp for high school students (9-12) and recent school leavers. This 1-week virtual summer camp runs from 16-20 January 2023. No prior quantum or coding knowledge is required or expected, and there are many full scholarships available (prioritised for students underrepresented in STEM)! Visit: https://sydneyquantum.org/programs/schools/
TAFE NSW Get skills fit this summer with fee free* short courses. 
Students who are leaving school permanently in 2022 can access a range of fee-free* short courses designed to give them skills in industries where there are immediate job opportunities. Explore courses in Hair and Beauty, Hospitality, Business and more. Find out more: https://www.tafensw.edu.au/summer-skills *Eligibility criteria apply. Training is subsidised by the NSW Government.
UCAT NIE
Medical School Entry Interview Preparation Attention Year 11! Considering a career in medicine or dentistry? If so, then you should start your medical interview preparation now. Don't miss it! 2023 workshop dates are now booking! https://www.nie.edu.au/medical/umat-interviews/medical-interviews-workshop Ph: 1300 974 187 or 0412 439 115 www.nie.edu.au  enquiries@nie.edu.au
UCAT NIE
UCAT Preparation Workshop (online) Attention Years 10 and 11: Head-start or continue UCAT Preparation! Intensive UCAT Preparation Workshop 18 December 2022 – LIVE ONLINE INTERACTIVE 25 January 2023 – In Sydney (Chatswood) To register: https://www.nie.edu.au/ucat-courses/simulated-ucat-day-workshop TEL (02) 4367 0404 / MOB: 0412 439 115 / MOB: 0404 197 178 / enquiries@nie.edu.au
Barcats
Zero Cost 5 Day Job Ready Course for Hospitality beginning on the following dates: Dec 5 or 12, Jan 9, 16, 23, 30. RSA and RCG certificates shall be awarded on completion. Learning outcomes: Hospitality Essentials, Food Safety Handling, Customer Service and others. https://www.barcats.com.au/
Barcats Zero Cost RSA in Sydney
November 28th – @ Accor Stadium Sydney Olympic Park. December 5th – @ CommBank Stadium Parramatta. December 12th – @ Accor Stadium Sydney Olympic Park. January 9th-14th – CBD venue to be confirmed. January 16th – 20th – Western Sydney venue to be confirmed. Jan 23rd-25th + 30th, 31st – CBD venue to be confirmed. https://www.barcats.com.au/
Information Sessions for Students & Parents
USI Short video for school leavers: Five key things you need to know when leaving school
The Department of Employment and Workplace Relations, in partnership with the Office of the Student Identifiers Registrar, Services Australia and the Australian Taxation Office, have developed a short interactive video for students when they leave school. The video outlines 5 key things that will help students navigate their next steps after school. To view the clip: https://www.yourcareer.gov.au/school-leavers-support#fivekeythingsvideo
ACU Change of Preference Event
Join ACU for change of preference advice at the Strathfield Campus on Friday 16 September, 9am – 12pm. Register to speak with staff and students about study options and pathways to ACU or join a campus tour. This event will cover all courses across NSW campuses. Register now: http://www.acu.edu.au/about-acu/events/change-of-preference-advice/nsw
ACU An Evening with Education in Canberra
Discover the friendly campus and hear from ACU education staff, current students and alumni. Learn about entry pathways, course structure, support services, uni life and more. Wednesday 23 Nov 2022 6 – 7:30pm. Register now: https://www.acu.edu.au/about-acu/events/2022/november/an-evening-with-education-at-acu-canberra
ACU Guided Visits
Explore what ACU has to offer from nursing labs to physio simulation rooms, moot courts and so much more across our NSW and ACT campuses. There are limited spots available due to COVID-19 restrictions, so register now to join an exclusive guided visit hosted by one of ACU's experienced Student Ambassadors. Register for a guided visit: http://www.acu.edu.au/campus-tours
JMC Academy
Wednesday 30th November – MAKING WAVES is a must for current and future students, and graduates wanting to explore the multitude of career opportunities in audio. Live music, food, drinks, and experience our new world class studios along the way. For more info and to register go to: https://www.jmcacademy.edu.au/news-and-events/events/making-waves-sydney/
Sarina Russo Apprenticeships
Invitation to attend Apprenticeship and Traineeship Jobs and Information Night on Tuesday 06/12/2022 6:00pm – 8:00pm at Canberra College Performing Arts Centre, 2 Launceston Street, Phillip ACT 2606. Panel discussion, Q & A and then breakout to Expo. Speak with exhibitors, gain valuable information and submit your resume for positions! Register to attend: https://forms.office.com/r/h8NKAL4rfX
TAFE NSW
Information sessions. Students can join us online or at their nearest participating campus, to discover how TAFE NSW can help them get the skills they need for the job they want. Registrations are mandatory https://www.tafensw.edu.au/information-sessions
UCAT NIE
7 December 2022 – UCAT, Interviews, and Pathways into Medicine / Dentistry. UCAT NIE presenting a FREE webinar about UCAT, interviews, and pathways into medicine and dentistry. This is NOT an advertising seminar. The session is packed with invaluable information. To register https://www.nie.edu.au/ucat-free/free-ucat-information-sessions Ph: (02) 43670404 enquiries@nie.edu.au / www.nie.edu.au
Job & Work Experience for Students
Become an Au Pair – Opportunities in the USA, France and New Zealand!
Have you dreamt of jumping on a flight and changing your perspective? Become an Au Pair and use your babysitting experience to try something new. Become a live-in nanny and experience living in one of the three fabulous destinations above. Placements start from 6-12 months, and you will receive full board and pocket money. Applications open now. For more information visit www.aupairamerica.com.au
Camp America – 2023 Gap Year Opportunity
Considering a gap year after high school? – Add overseas experience to your CV, make an impact, explore the US and make lifelong friends from around the globe. Camp placements are between 9-12 weeks and include your board PLUS pocket money. For more information about Camp America 2023 visit www.campamerica.com.au, or join our FREE Online Webinar on Tuesday, December 6th at 7pm.
Grandshake and Inland Rail partner to give school students free access to virtual work experiences.
Grand Opportunities, a regional skills initiative gives secondary schools an opportunity to engage with major regional employers and provide their students with meaningful virtual work experiences. Please contact Grandshake's Education Manager at andrew@grandshake.co to get more information or go to www.grandshake.co
Resources for Students
Traineeships, Cadetships, Apprenticeships – Information & Opportunities
Ai Group – Apprentice & Trainee Centre
Ai Group Apprentice and Trainee Centre host apprentices across NSW and are a proud partner to more than 200 host employers. For More information on current vacancies please visit https://www.aigroupapprentices.com.au/all-jobs/ or contact 0426 680 064.
---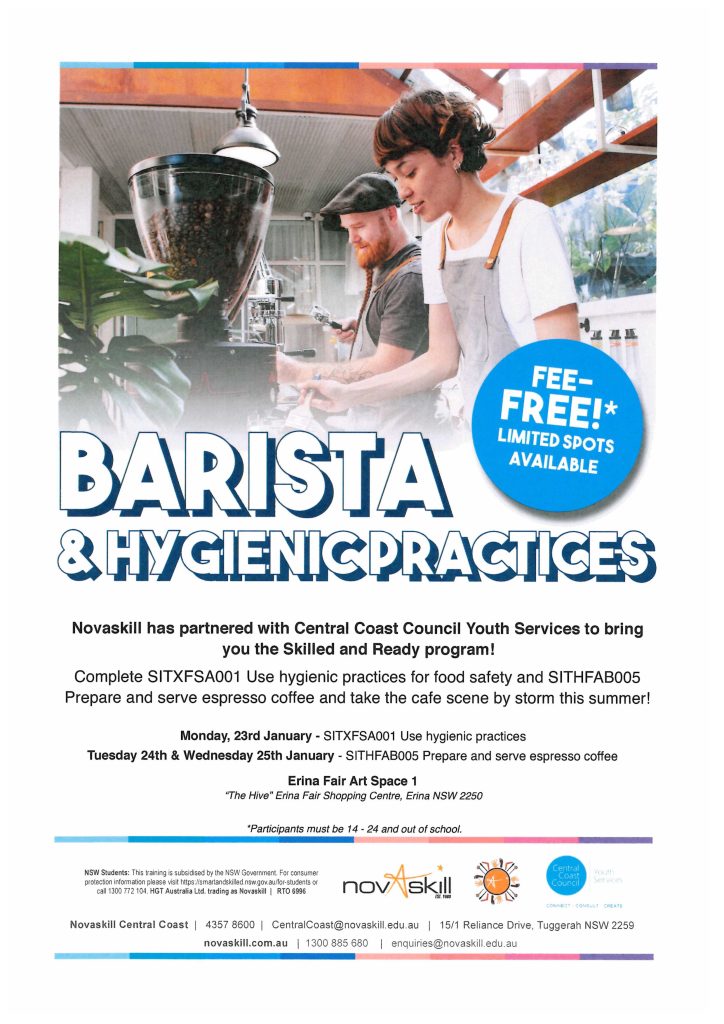 ---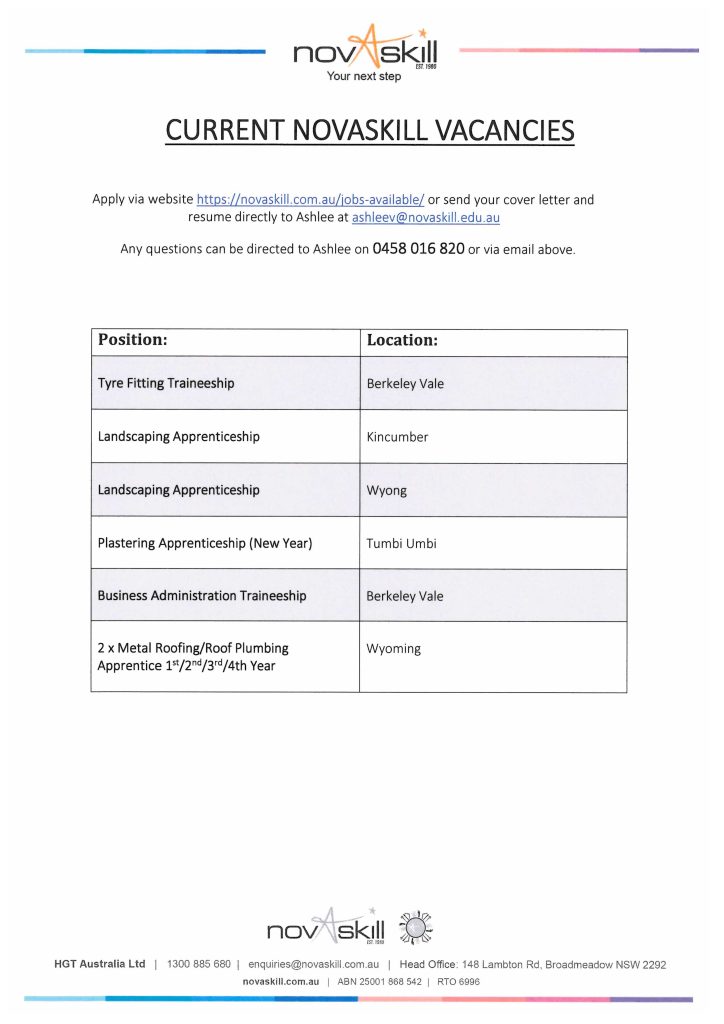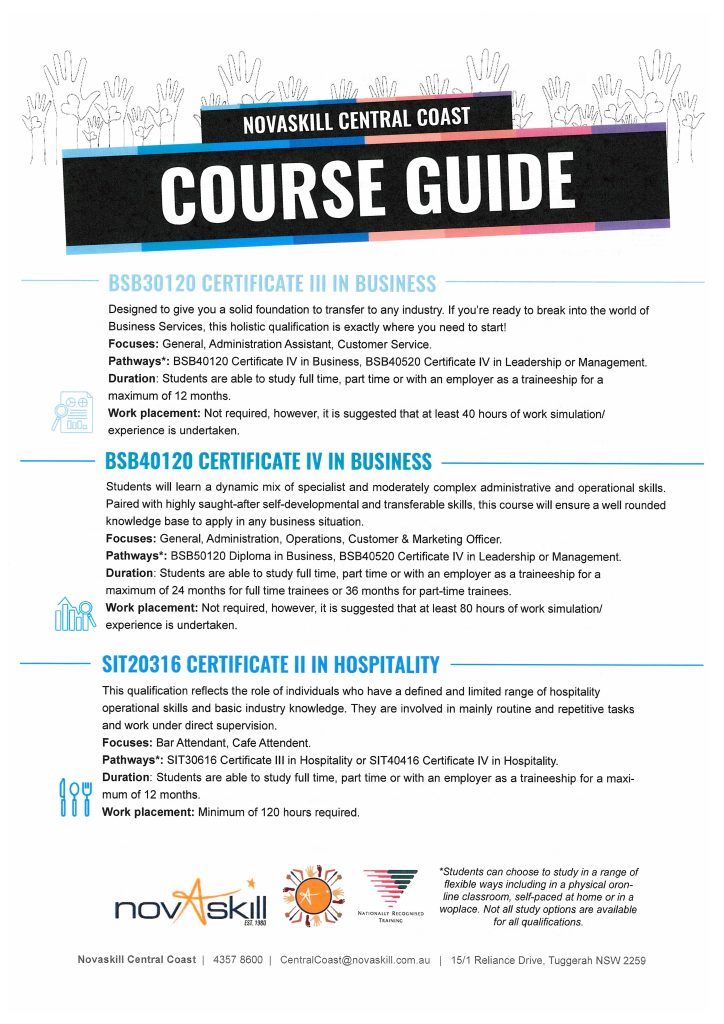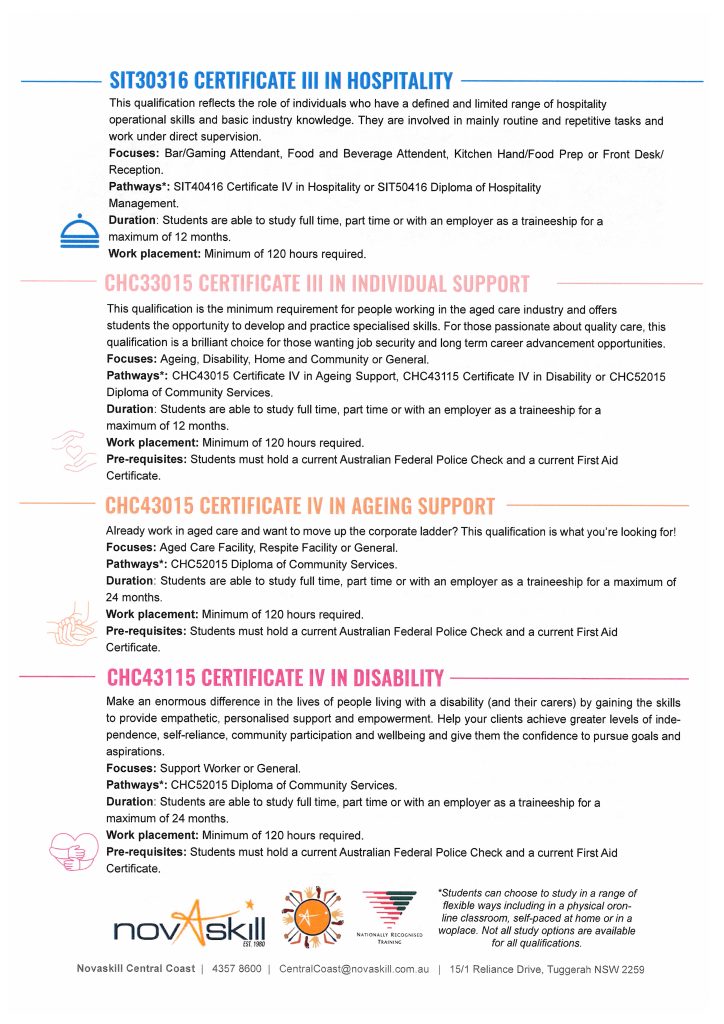 All interested can email  adamd@novaskill.edu.au
---
UCAT National Institute of Education
Intensive UCAT Training Workshop – LIVE ONLINE INTERACTIVE
Do not delay any longer, make a start with your UCAT Preparation this month.
28 – 29 December 2022
Intensive 2-Day Interview Training Workshop  – LIVE ONLINE INTERACTIVE
Recommended for Year 11 and 12 students
Find out why you should start medical school interview preparation in Year 11?
View all available Interview Training Sevices
Complete UCAT Courses – various levels of preparation and options available to meet individual student needs.
UCAT Preparation Workshop – 5 sections of the UCAT covered + full mock exam under timed conditions + introduction to medical interviews.
Ongoing UCAT Training – Medify Platform – Affordable and superior UCAT preparation platform.
UCAT Textbooks – recommended list of textbooks to support your UCAT and Interview preparation.
Medical Interviews Workshop – lift your performance above the competition, validating your sincerity and burning positive lasting impressions into the minds of the selection panel.
Please note, that some pathways into medicine, dentistry, and clinical sciences may not require the UCAT. For details candidates should refer to the websites of the universities to which they intend to apply.
Universities and the UCAT Requirements
UCAT ANZ 2023 Key Dates
Candidates taking the UCAT ANZ in 2023 for entry to universities in Australia and New Zealand in 2024 should note these key dates.
Deadline times are 11.59pm AEST – Australian Eastern Standard Time
Concession Scheme opens
Access Arrangements open  
1 February 2023
BOOKING OPENS
1 March 2023
Concession application deadline
10 May 2023
Access Arrangements application deadline
17 May 2023
BOOKING DEADLINE
17 May 2023
Late booking deadline
31 May 2023
FINAL late booking deadline
5 June 2023
Cancellation deadline
10 June 2023
Testing begins
3 July 2023
Last testing date
12 August 2023
Results delivered to universities
by early September 2023
---
Royal Life Saving Funded Training Programs
---

Future Student Info Days – Sydney
There's still time for your students to register for AIM's Future Students Info Day at our Sydney campus! They will be able to tour our world-class facilities and ask us everything they want to know about studying music with us, from choosing electives to music career opportunities post-graduation.
Dates: Monday 19 December, 11am – 3pm
Location: AIM Sydney, 27 Nurses Walk, THE ROCKS NSW
School Holiday Workshop – Songwriting
Songwriting Workshop
Join songwriter, producer and composer Dom Cabusi for a fun two-day session exploring the art of writing original music! Use discount code 25OFF for $25 off.
Date: 16 – 17 January
Time: 10am – 4pm
Location: AIM Sydney, 27 Nurses Walk, THE ROCKS
+Register Now
---