Careers – Apprenticeships, Traineeships and Opportunities
Please see the links below for apprenticeships, traineeships and positions vacant available to students:
---
Apprentice Joiners – 2 Positions
We are looking for 2 Apprentice Joiners who would also have the opportunity to learn our CNC machine.
This would be a full time position, 4 Year course, 3 Years at TAFE located in Newcastle and 1 year at our factory
Shamrock has one of your ex-students,  Lachlan who has worked his way up the ranks and is now in a senior position within the company.
For further information please call:
Mark McInerney
Shamrock Joinery & Associates Pty Ltd
Superior Quality Timber Windows & Doors
ABN: 48 601 053 990
11 Ketch Close
Fountaindale NSW 2258
P: 02 4388 5515
F: 02 4388 5514
E: mark@shamrockjoinery.com.au
---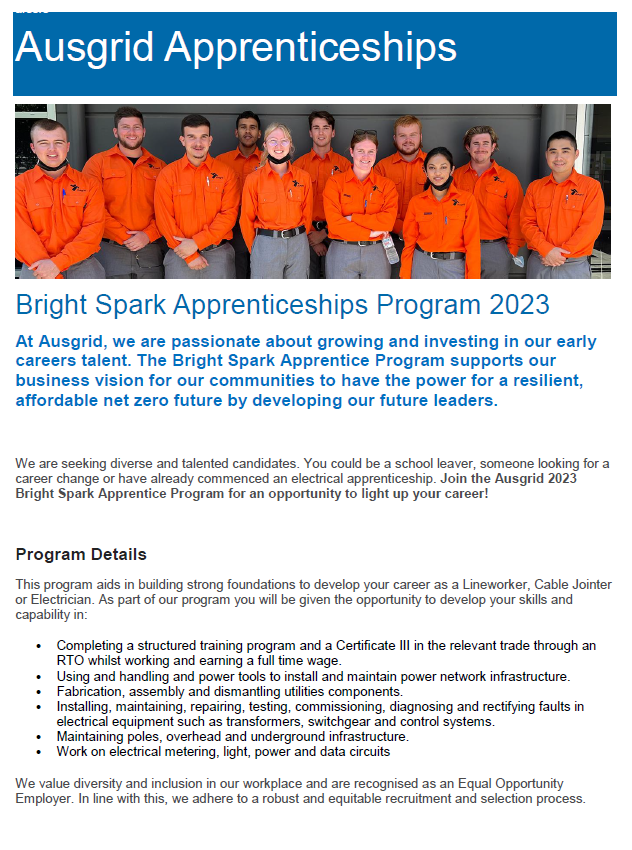 ---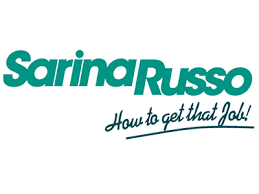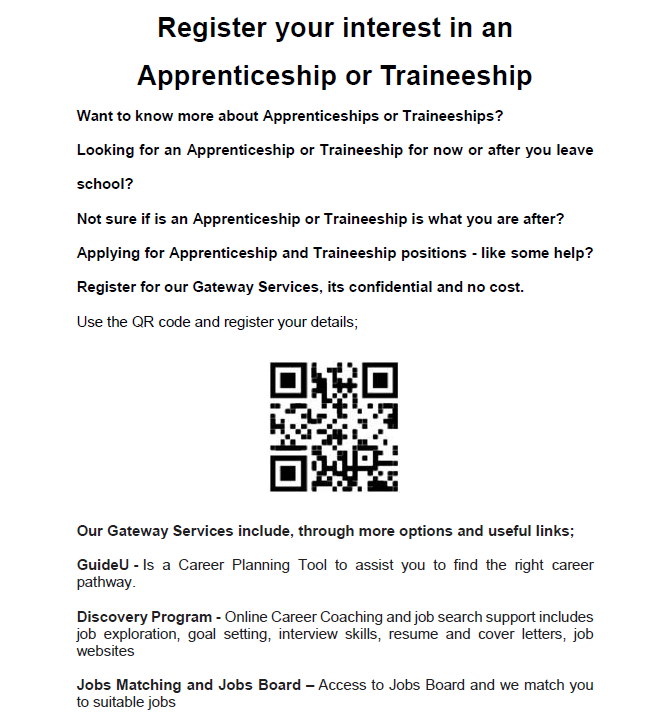 ---
---
Here is our most recent list of vacancies showing the apprenticeships and traineeships we currently have available in your state. If you'd like to further tailor your search by industry, job type or region, please use the drop-down menu at the top of the Job Board page.
---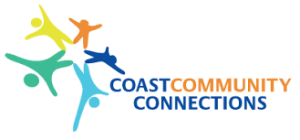 Casual Educators – Before and After School Care / Vacation Care
Coast Community Connections Limited (CCCL) is a registered charity and not-for-profit organisation providing life changing community services caring for people from all walks of life across the Central Coast. Offering a remarkable and diverse range of programs and services, Coast Community Connections is considered a vital partner to many individuals and groups locally. The organisation has a strong reputation in the Community as a leading provider of Ageing and Disability Services, Home Modifications and Maintenance, Youth and Counselling Services and Childcare Services including Long Day, Early Learning, Before /After School Care (BASC) and Vacation Care.
We are looking for Casual Educators to work within our Before and After School (BASC) and Vacation Care Services across multiple locations, including Woy Woy, Point Clare, Kariong and Gosford.
These casual positions provide valuable experience for anyone wanting to take on further study or work within the Childcare or Education setting after they leave high school.
Working with an experienced, dedicated and friendly team of professional Educators, these positions will be responsible for:
Assisting in implementation of educational programs and activities.
Engaging Children in stimulating, fun and educational learning activities.
Assisting with managing children's needs.
Meeting the health and safety needs of all children.
Building professional and positive relationships with the children in the service.
Available shifts will vary based on each service's individual needs. Typical BASC shifts are Monday to Friday, mornings 6.30am – 8.30am and afternoons 3.00pm – 5.00pm or 3.30pm – 6.30pm.
Vacation Care shifts are offered between the hours of 7.00am and 6.00pm Monday to Friday, throughout the school holidays. Available shifts vary in length from 2hrs per shift, up to a maximum 8 hours. Casuals will be rostered based on their listed availability.
If you are patient, flexible, reliable and love working with children this could be the opportunity you have been looking for.
Casual Educators must be 18 years old, hold a First Aid Certificate and poses a general understanding of early childhood education principles. If successful, Child Protection Training will need to be completed prior to your first shift. Previous experience working with Children is preferred but is not essential.
It is a condition of employment that Successful applicants:
Hold or obtain a Working with Children Check Clearance and a National Police Check Clearance prior to commencing employment. CCCL will provide the necessary information to assist applicants to obtain these checks during the recruitment process.
Be and remain vaccinated against COVID-19 during their employment. A current COVID-19 Vaccination Certificate showing 3 doses of an approved COVID-19 Vaccine is a requirement for this position.
To be considered for one of these positions, please submit your resume and a cover letter to HR@cccl.com.au or call Fallon Davis on 02 4343 1888.
---