Careers – Apprenticeships, Traineeships and Careers Information
Please see below for the latest information regarding Apprenticeships, Traineeships and opportunities.
---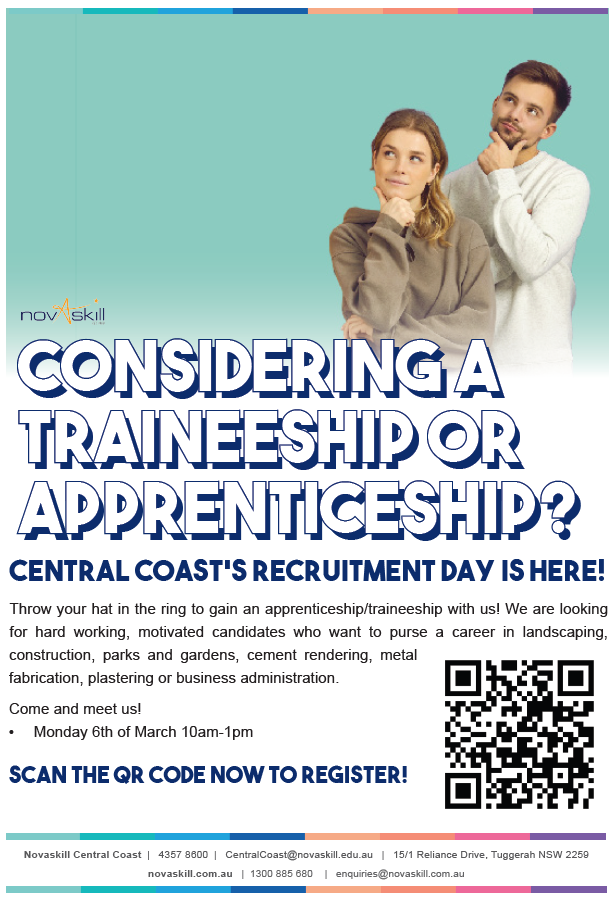 ---

2023 Apprenticeship/Traineeship & Jobs Expos
Your Career Starts Here.
Our extremely successful Apprenticeship/Traineeship & Jobs Expos are back providing opportunities for students and job seekers you will not receive anywhere else.
Will we see you there?
Bring copies of your resume and get in first.
**Free entry**
About The Expos
Our annual Apprenticeship/Traineeship & Jobs Expos attract over 20000 visitors and 400 exhibitors combined and are widely accepted as the premier expos of their kind in NSW.
The timing of the expos are a hit with families as it allows parents to attend with their children and have those all-important career chats with industry experts.
The expos kick off the recruitment process. Exhibitors get the chance to collect resumes and promote their organisation for upcoming recruitment drives.
You can view highlights of the Western Sydney Apprenticeship/Traineeship & Jobs Expo here.
With a lot of major infrastructure projects underway there has never been a better time to start your journey on a rewarding career path.
This is the perfect chance to meet experts representing industry, businesses, group training companies, registered training organisations and many more and apply for apprenticeships, traineeships, jobs and further education pathways.
Whether you are at school and looking for a career path, a parent hoping to give your child the best opportunities in life, looking for a career change or a job-seeker looking to commence a rewarding career, the 2023 Apprenticeship/Traineeship & Jobs Expos have all the answers you need
Where & When
Newcastle & Hunter Apprenticeship/Traineeship & Jobs Expo
Tuesday 8 August 2023 – 3pm to 8pm
NEX – Newcastle Exhibition & Convention Centre, 309 King St, Newcastle West NSW
Central Coast Apprenticeship/Traineeship & Jobs Expo
Tuesday 15 August 2023 – 3pm to 8pm
Mingara Recreation Club, 12/14 Mingara Dr, Tumbi Umbi NSW
---

Here is our most recent list of vacancies showing the apprenticeships and traineeships we currently have available in your state. If you'd like to further tailor your search by industry, job type or region, please use the drop-down menu at the top of the Job Board page.
Vacancies
Microsoft Traineeship Program – CERT IV IT |Sydney – various locations
Kickstart your IT career with the Microsoft Traineeship Program
Certificate IV in IT with integrated Microsoft Azure Certifications
The program enables pathways into IT careers
Varies host employers in the Sydney area
24 months of working and studying whilst getting paid
For more information on this role click here
Or contact MEGT direct recruiter: amandawilley@megt.com.au
1st Year Electrical Apprenticeship – Arndell Park
 Based in Arndell Park – Western Suburbs of Sydney
Nationally recognised qualification
National Organisation
Cert III in Electrotechnology
 For more information on this role: https://www.megt.com.au/jobs/jo0000790731978686109883946757
Electronics and Communications Apprenticeship – Sydney Metro
 Cert III Electronics and Communications
Service and Installation of CCTV, MATV and electronic systems
Access Control, Security DECT, Systems Integration
Servicing Sydney Metro
For more information on this role: https://www.megt.com.au/jobs/jo0000785847358946109883962768
1st Year Electrician Apprenticeship – North Sydney
Weekly pay cycle
Full time paid work
TAFE training
Receive a nationally recognised qualification
Qualified tradesman who will teach and give a good grounding in the trade
Duties include: assisting qualified electricians with installing wiring and fittings
For more information on this role: https://www.megt.com.au/jobs/jo0000786799517686131289975586
1st Year Landscape Apprenticeship – Eastern Suburbs
Weekly pay cycle
4 year apprenticeship
Full time paid work with TAFE training once a week
MEGT Employee Assistance Program
MEGT Consultant to support and mentor you throughout your apprenticeship
Duties include: Excavating, paving, concreting, timber work, planting and gardening
For more information on this role: https://www.megt.com.au/jobs/jo0000787086403686131289979120
Microsoft Traineeship Program – CERT IV IT |Newcastle locations
Kickstart your IT career with the Microsoft Traineeship Program – ENTRY level role
Certificate IV in IT with integrated MEGT Microsoft Traineeship Program
The program enables pathways into IT careers
Roles available across Newcastle
For more information on this role: https://www.megt.com.au/jobs/jo0000790994182507120215484541
Or contact MEGT direct recruiter: amandawilley@megt.com.au
---
Nestle
Kickstart your Career With Nestlé
If you're a natural problem-solver, with a creative mind and insatiable curiosity, consider a career in engineering. Nestlé is a place to learn, develop and grow to your full potential, with career opportunities for engineers that help people, families and pets live happier, healthier lives.
Nestlé shares inspiring stories about women in engineering and engineering at Nestlé. Today, Laura and Claire turn back time to reflect on their journey of how a passion for maths and science has transformed into a career in engineering. Hear about their personal experiences here.
Infinite Aged Care
Get Ready to Meet Your Future – With Infinite Care!
You might not know this, but the Aged Care sector is one of Australia's largest employment industries – and there is so much you could get involved in! Infinite Care are leaders in the industry and keen to show you just what.  Click Here
Miele
Your Future Starts With an Apprenticeship with Miele!
Join one of the world's most recognisable brands and kickstart your future today with a Miele Apprenticeship!
Become a qualified Service Technician with the German family-owned company, known for its premium domestic. Click Here
---
Australia's top 3 recession-proof industries 
With rising interest rates, inflation and ongoing impacts of the Russian-Ukraine war, markets around the world could be facing harder times and possibly a recession in 2023. And many Australians could be wondering if their jobs are safe.
SEEK's Senior Economist, Matt Cowgill says that there might be a few storm clouds ahead, however the Australian labour market is, at the moment, in very good shape.
"In a softening labour market, we'd expect to see more employers letting people go. Australia's in a strong position to defy a local recession, however we won't be completely immune from a global downturn, and there are some industries that will do better than others", Cowgill says.
Healthcare & Medical is the most recession-proof industry. People still need to access healthcare even during a period of slow economic growth, so demand for healthcare workers will remain strong during a recession.
Farming, Animals & Conservation is also relatively recession-proof – people still need to eat regardless of how the economy's going.
Education & Training is one of the most stable industries, as people still want to further their studies and advance their skills during a recession. Teachers will still be required to work and remain in high demand, even during periods of uncertainty.
If you're looking to protect yourself in a recession, it helps to know which jobs are the most in-demand right now. We've looked at the latest data – the table below is a snapshot of the top 20 most-in demand jobs in Australia right now, including average salary.
---

When we picture someone working in mining, we can tend to think of someone working as a shotfirer or a boilermaker, who spends a couple of years in the resources sector before finding work in another industry.
But when we consider that the Australian mining industry plays a hand in employing close to 1 in 10 Australians, we realise that this stereotype is quite far from the truth.
There's an incredible breadth and variety of professionals working in the mining and resources industry. It encompasses people working in more traditional trades and project management, through to cutting-edge roles such as drone operators, deep data analysts and digital engineers.
What may surprise you is that career paths between these roles are far more accessible than they appear at first glance. The resources sector spends more on training per person than most industries, including tuition for higher education.
Students could enter the sector in a rewarding and highly-paid job with a VET qualification, and then progress into more specialised or managerial roles.
STEM qualifications are becoming increasingly valuable in the sector, as mining and resources companies invest heavily in areas such as green hydrogen and renewable energy projects.
With over 5,000 apprenticeships being created in the resources sector over the next five years, there's never been a better time to enter the industry.
That's why AUSMESA has collaborated with Year13 to create Resourcefulness, our free e-learning module to show young people what the future holds in store for the resources sector, and how they can get involved. For more information, please visit Resourcefulness via the Academy landing page.
---
St Edward's College Careers Website
Our Careers newsletter has renewed energy thanks to StudyWorkGrow, who specialise in careers education and life preparation, to not only keep you informed and up to date with all things careers and pathways but offer real actionable tips for your son as well. A PDF version will also be published on our Careers Website under Important Information.
---
---