BBSSSA Swimming Carnival
Broken Bay Swimming Carnival
St Edward's sent a team of 23 competitors to contest the Broken Bay Carnival at SOPAC, Homebush on Thursday 11 March.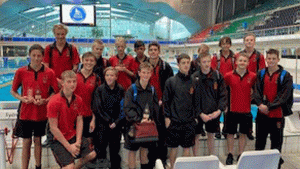 The team dominated the carnival, achieving some excellent results. Highlights for the day included:
The Opens 4×50 m Freestyle Relay team setting a new Broken Bay record of 1:43:01. The team consisted of: Taine Beavis, Ryan Green, Nick Green and Daniel McLoughlin.
Ashton Walters (16 years) and Daniel McLoughlin (17+ years) Age Champions.
Tahj Regattieri (13), Archie Carpenter (14), Jayden Redfern (15) all finishing second in their Age Group.
Winning all seven relays
Clean sweep of the Division Titles (Junior, Intermediate and Senior)
19 boys progressing through to the NSWCCC Swimming Carnival on Monday 29 March
The team consisted of: Cooper Smith, Ronnie Jordan, Tahj Regattieri, Eden Pearson, Kye McIntosh, Archie Carpenter, Deakin Wright, Sam Cormack, Cooper Jones, Sam Logan, Cashar Darwin, Kale Puata, Ashton Walters, Cohen Crook, Jayden Redfern, Jack Vaughan, Kye Holliday, Joseph Bonham, Daniel McLoughlin, Nick Green, Kyle Graham, Nathan Irvine, Taine Beavis and Ryan Green.
A big thanks to Ms Celebrin and Mr Hannelly for assisting with the team on the day.