BBSSSA Cross Country
Another great day of racing for St Edward's College athletes. The event once again proved popular with a large number of participants over all age groups.
The competition was held at St Ives Showground in hot, dry conditions. The course is a mixture of dirt tracks and gravel tracks, bush running with an undulating surface and a grass start and finish.
Once again, St Edward's College showed their strength in cross-country running.
Under 12's
The Under 12 boys raced strongly, enjoying their first representation of the College. A great winning run was achieved by Keenan White with Tahj Werner coming in 2nd with a strong run. These two athletes qualified for the Combined Catholic Colleges' competition, representing Broken Bay. This is the next step to competing at All Schools Cross Country and the chance to represent NSW at Nationals. Ben Blunt, Harley Dimech, Harrison Stiffle and Alexander Cutting also represented the College and ran well. This age group won first place in the Team placings.
Under 13's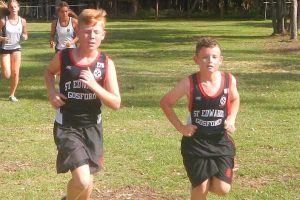 The Under 13 boys were the first race of the day, and it stressed the importance of athletes fully understanding the course by walking it before the competition and being aware of the course when running.  Michael Holmes ran an excellent race to place 2nd and William Brown placed 6th. These two athletes will represent Broken Bay at Combined Catholic Colleges competition also.  The College had a large number of athletes in this age group, Jayden Redfern, Kieran Diamond, Calan Tucker, Koby Salter, Noah Nakagawa, Samuel Packer and Lachlan Sheddon. The Under 13's age group placed 2nd in the Team placings.
Under 14's
Under 14 boys ran well with fantastic performances from all athletes. Gabe Scott once again proved to be an outstanding athlete, gaining 1st  place as he did last year, Lorcan Hayes had an outstanding race, coming in 2nd, Kai Wheelock 4th, Eamon Wild 5th, Daniel McLoughlin 8th and Chis Murray 11th.This age group has 4 athletes progressing to Combined Catholic Colleges and placed 1st  in the Teams placings
Under 15's
The Under 15's boys had strong runs from Kyle Graham 1st, Tom Herbert 6th and James Milburn 13th. Both Kyle and Tom will represent Broken Bay at the Combined Catholic Colleges Carnival. This will be a task for Tom Herbert who is travelling to Canada for track competition and arrived back in Australia a few days before the Competition. The Under 15's also placed 1st in the Teams placings.
Under 16's
In the Under 16's boys, Jacob Curcio ran a strong 2nd, followed by Lachlan Rousell 3rd, Daniel Hope 5th, with all 3 boys through to Combined Catholic Colleges Carnival. Other placings were Christian Campbell-Smyth 7th (first reserve), Chet Robinson 10th, Brock Van Aaldren 13th, Liam Anderson 15th, and Lincoln Hey 27th. The Under 16's placed 1st in the Teams placings.
Under 17's
A small number of Under 17's boys competed, with Luke Jacobs 2nd, Angelo Mosquera 7th (first reserve), and Callum Sutton.  The Under 17's placed 1st in the Teams placings.
Overall, 15 athletes qualified for competition at the Combined Catholic Colleges Cross Country held at Eastern Creek Raceway and we have 2 reserves if any athletes cannot compete. St Edward's College placed 1st in all age categories except the Under 13's boys who came 2nd. This outstanding effort made St Edward's College the annual Champion College in Cross Country which is the 20th time St Edward's College has held the title in 21 years.