An Update from the Performing Arts Faculty
It has been a busy and exciting start to 2023 for the Performing Arts Faculty. From the classroom to the stage and screen our students have been immersed in developing their skills in performance, composition, improvisation, editing, technical operations in theatre and film making.
Lunchtimes are abuzz with creativity, our music practice rooms fully booked, the Concert band meeting each Monday to go across to St Joseph's and the enthusiastic students of the Drama club meeting in the drama space run by Ms Atayde.
This year we welcomed Mr Justin Kane (Music) and Ms Elena Atayde (Yr 9/10 Drama) into the faculty.
Here is a brief overview of what's been happening in and around our classrooms.
Year 7 Music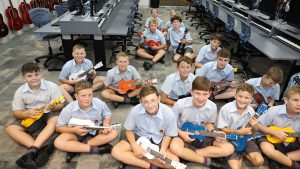 Year 7 students have been busy learning about pitch and rhythm through hands on activities including music creating and development of practical skills on the ukulele, guitar and keyboard. With a new focus on formative assessment over a series of weeks Year 7 have been enjoying developing their skills and having agency in their learning through being able to elect levels of practical and composition activities.
Year 8 Music
Year 8 Music students have enjoyed learning about the broad world of Rock music through an engaging program that takes them through the development of Rock in the 1950's to present day. They have just begun work on our Term 2 Topic which explores the amazing contribution music makes to the world of TV, Film and Multimedia. Concurrently students have spent time further developing their practical skills through formative assessment focussing on their accompaniment skills which is a foundation skill for beginning to perform with each other in small ensembles. Through this fun and engaging activity, they not only develop their technical skills but also learn to work as part of a team and learn about the importance of timing, balance and individual contribution.
Year 9 Music
In Year 9 Music the boys are developing performance techniques and confidence through ensemble work and by playing in front of their peers. They are to be congratulated on their efforts this term. An important aspect of the course is to expand the boys' listening skills through a wide range of aural activities and music analysis. They have also developed an understanding of music theory and its relationship to their chosen instruments and how this can improve their performance.
Year 10 Music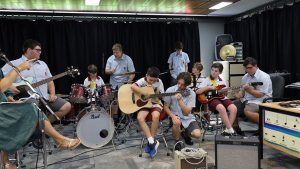 First term began with a focus on Classical music, learning not only about the music but the society and culture from which it emerged, this perspective allowing for some very engaging discussions. A strong focus on learning how to analyse scores and identify compositional techniques gave students a deeper insight into musical structure and the use of the concepts of music. Term 2 has seen a shift to the study of more contemporary music through a focus on Rock. Year 10 are enjoying rehearsing for an upcoming performance task in their small ensembles where they are also required to analyse and discuss compositional techniques of the pieces they are playing.  Many of these students were also excellent ambassadors for the school and Music faculty by performing for and being mentors to the Year 6 students who attended 'A day in the Life'.
Year 11 Music
Our Year 11 class is a vibrant and supportive cohort who have embraced the senior music course with enthusiasm. Some of these students have stepped onto the stage and into the public arena for the first time ever, which is an enormous achievement. This talented class are enjoying developing their technical skills and creating an environment where they perform with each other and for each other regularly to build their confidence. Currently they are working on their compositional skills, creating original melodies, and developing their aptitude for harmonic progression and accompaniment.  Many of these students took the opportunity to perform at the College Open Day and a wonderful ensemble group performed at the Easter Liturgy with the honour of performing the finale number Viva La Vida to a very appreciative audience.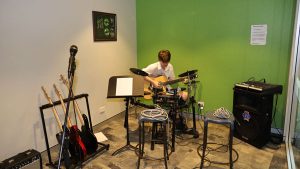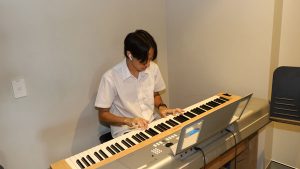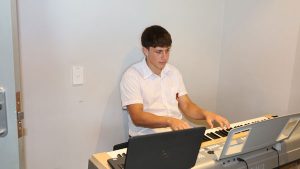 Year 12 Music
This talented class are busy preparing for their performance assessment and a performance evening next term before their HSC practical examination takes place. They have continued to develop their aural and compositional skills, most recently completing a rearrangement of the iconic Waltzing Matilda into a different genre with some exceptional results. This task drew on their understanding of the concepts of music and the manipulation of these to represent specific characteristics of a style. This Thursday they will attend a HSC Music Study Day with other Year 12 Music students from across the coast taking part in workshops covering their core and elective units as well as hearing from senior HSC markers and past students. Students will also have the opportunity to perform and listen to some of the HSC pieces from the wide range of attendees as they receive constructive feedback from HSC markers.  Many of these students also performed at the College Open Day, Easter Liturgy and 70th Anniversary Liturgy providing most valuable soundscapes to enrich these experiences for all present.
Year 9/10 Drama
It has been an exciting start to the year for Year 9 and 10 Drama students who are relishing the purpose-built Drama space, fully equipped with stage lighting, a props room and staging facilities. Performing Arts staff were treated to a wonderful performance by students in this space at the end of Term 1 as they completed their first assessment performance centred around improvisation and play building. Students were tasked with putting together a 2–3-minute performance in groups based on a given stimuli and incorporating the elements of drama. It has been wonderful to see the confidence and creativity of this group of students go from strength to strength under the nurturing and inspiring guidance of their teacher Ms Atayde.
Entertainment
Our Year 11 and 12 Entertainment students are an integral part of all productions big and small at the College. Already this year they have had the opportunity to work on the staging of the Commencement Mass, The Easter Liturgy and the bump in and bump out process of the very special 70th Anniversary Liturgy held last week. Year 11 students are beginning work placement next term and have had their first taste of working on the large-scale events. Year 12 students are busily completing their Certificate III qualifications, whilst also enjoying being back in the Theatre to complete competency tasks in Lighting and getting ready to complete the Working Backstage effectively, where they stage, light, provide audio and acting for a scene from Macbeth. Some of these talented students will also work backstage at the upcoming YIPA series of concerts at Laycock St Theatre.
Screen and Media
Our Screen and Media students have been busy further developing their skills and creativity. They have been filming for a range of school events, as well as creating documentaries, podcasts and short films and are working on feature news stories for SECTV. The Year 12 short films were a highlight of Term 1 with not only some truly creative camera angles, scene setting, lighting, cinematography  and editing taking place but also the unearthing of some serious acting chops!
 Concert Band
The concert band had a strong finish to 2022 and we were delighted to welcome several new members this year to our weekly rehearsals at St Joseph's. In March the boys took part in the Band Jam event held on site at  St Joseph's where they acted as mentors to band students from many feeder primary schools. This was a very successful venture and the boys are to be congratulated on their excellent leadership and mentorship shown to much younger students. Currently the repertoire of the Concert band includes a jazz piece Sway,  a medley of classics, Enter Sandman and Promise the Australian Eurovision entry.  We look forward to hearing their finished pieces and celebrating them in front of audiences as the year progresses.
Events and Performances
Our students have been very fortunate in their exposure to live performances last term – with Year 11 and 12 Music students travelling to the Opera House as audience members for Encore – the showcase event for HSC Music performance of excellence. This year was made extra special by being able to support our very own 2022 HSC Music student Patrick Ward who was selected to perform his HSC Flute piece.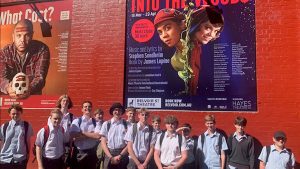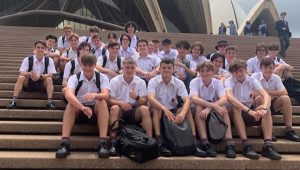 Our Year 9/10 Drama students and Year 11 Vet Entertainment students were treated to a trip to Belvoir St Theatre in Surrey Hills to see a very engaging performance of Steven Sondheim's acclaimed musical Into The Woods. This was a fantastic opportunity for our students to experience theatre in an intimate and immediate setting and they thoroughly enjoyed the staging and performances.
YIPA: Congratulations to the following students whose items were selected to perform at this year's YIPA series of concerts at Laycock St Theatre. The standard and magnitude of auditions was extremely high and it is a testament to the quality of the items the boys presented to be included. Lachlan Herd (Drama), Taylin Burgess (Music), James Nilsson (Music), Leon Towle and his ensemble including Kai Maitland, Charlie Jacobsen, Matthew Frost Foster, Domenic Fatone and Sacha Byrne (Music)
Coast Academy Of Music: Our Individual Music Tuition program with Coast Academy of Music has expanded in 2023 and we are very fortunate to have Adrian Cross and Tom Brett continue leading tutorage in guitar, keys and drums.
As mentioned earlier, our students have enjoyed the opportunity to play for a wider audience this Semester and the school community has enjoyed their contribution to events and liturgies. We thank the boys for their performances including:
Open Day: Where the Music area welcomed visitors on a Saturday and replicated the experience of a rehearsal, with music winding its way out of 6 practice rooms and classrooms. Families visiting were delighted to see and hear the varied genres being performed. The Entertainment students also put on an engaging light and audio show in the theatre to showcase our incredible facilities.
Easter Liturgy: Where it was wonderful to see our musicians and performers contribute to the celebration of the Easter Liturgy to finish off Term 1. It is always lovely to see the performance collaborations between St Edward's and St Joseph's and this year was no exception with some truly moving pieces befitting the occasion. A special mention must go to our youngest performers (Harrison Evans, Jack Whitworth, Reagen Gomez, Joseph Sykes and Joey Hey all in Year 8) who showed tremendous composure in front of a capacity filled ERC.
70th Year Anniversary Mass with the Bishop: We started this term with this important Mass and some of our very talented Year 12 musicians James Nilsson, Daniel Herd, Sebastian Eager, Taylin Burgess and Kalen Hogan performed Hey Brother, The College Song, Edmund Rice Hymn and some beautiful solo instrumentals during communion. Our Music staff also contributed to this important occasion with vocals and guitar accompaniment to We Shall Overcome and Watch Over Me. We were joined by Max Taylor of Year 8 who added beautiful counter melodies on his violin and James Nilsson on the accordion.
We continue to look forward to many more opportunities for the boys to perform, create and produce across all of the Performing Arts KLA's in 2023.