Acting Principal's Message – 28 July 2022
Edmund Rice Education Australia Touchstones
Liberating Education
A Catholic school in the Edmund Rice tradition, we encourage all members of the school community to work to the best of their ability, to become the person that each is created to be and to strive for equity and excellence
'Showing Up'
I sometimes hear sports coaches at their post-match press conference questioned about why was it that their team was defeated in a game they were expected to win. Invariably the theme of their response is, 'we just didn't show up today' or 'we just weren't switched on'. This response tends to infuriate fans and media commentators as they know the players have the requisite skills, fitness and teamwork to perform at an acceptable level that should result in a successful game day outcome. They have done the preparation but clearly the 'X-factor' that is missing is application on the day.
In talking to a number of staff there is a feeling that some of our boys may not be 'showing up' to their classes to the best of their ability and therefore missing out on valuable learning opportunities.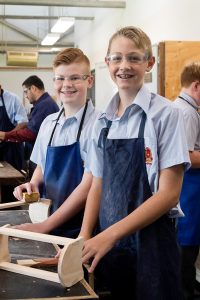 For teachers and parents, this can be very frustrating as we know that each boy has the requisite skills and is provided with support so as to be able to access a myriad of learning opportunities in every classroom they enter. This frustration is heightened by the knowledge that our young men are in control of the process of 'showing up'! Simple things will make a huge difference to their application and preparedness to learn and get the most out of every class they participate in. Such things include:
Being on time;
Having the right books, stationery and equipment – including a charged laptop;
Being respectful and positive upon entering the room;
Listening to the teacher's instructions;
Engaging in the lesson;
Moving quickly to being on task;
Avoiding distractions;
Taking responsibility for their own learning;
Supporting others to learn;
Taking pride in performance;
Asking questions, being curious and engaging in higher level thinking; and
being kind, caring and respectful to create a positive and fun learning environment for all.
As you can see these are all simple actions that our boys can take to ensure they are 'showing up' and being 'switched on'. I encourage parents to talk to their sons about these and other things boys can do to optimise their learning in each and every classroom they enter.
In the first week of term, we gathered for the Junior and Senior Academic Award Assemblies, I have no doubt that those boys who were acknowledged on the day would be consistently displaying the characteristics listed above.  Congratulations to those boys who received awards on the day, I hope it acts as positive reinforcement of your dedication to this point of the year – as my Dad seemed to say to me on a daily basis as I was growing up: 'You don't achieve anything without hard work.'
Click Here to view the full gallery

60 Images
Click Here to view the full gallery

44 Images

Year 12 Trial Exams
As our Year 12 boys head to the HSC Trial Exams, I have no doubt that the students who have been 'showing up' through this year will be the ones who are feeling most prepared and confident for their exams.  The hard work, not only this year but in the years beforehand, will have laid a foundation of not only knowledge and skills, but most importantly, habits of study that have prepared them for what can be a challenging time.
I wish all the boys the best for the trial exams, in the knowledge that their teachers have prepared them well and are always available to assist and support them through this time.
Lateness
A particular focus this term for our Pastoral Team, under the leadership of the Director of Pastoral Care, Mr Paul English, is following up on students who arrive at the College late with no explanation.  In the theme of this article and 'showing up', we need all boys present at school on time and ready to learn to maximise their opportunities.
This may mean for parents that you will start to see 'late unexplained' on your son's iWise attendance of when he arrives at the College after 8:50am and without a communication from you in the form of a note, phone call or email to the office.
We ask all families to support the College's efforts and in turn support their son to be on time each day.
COVID Update
Earlier this week I wrote to families regarding a four-week blitz on COVID as we face another wave of infection, which is also being compounded by cases of influenza and other respiratory viruses.
It is our hope that the safety measures being implemented assist reducing transmission in school, but also allow for minimal interruption to normal College operations.  Commencing this week, the following measures are being implemented:
Distribution of RAHT's to all students on Friday 29 July – if your son is away that day, he can obtain his RAHT from his Pastoral Leader.
Strongly encouraging mask-wearing indoors for all students, staff and visitors. Students are reminded that mask wearing continues to be mandated on public transport and buses for excursions.
Encouraging regular hand washing and other personal hygiene practices.
Continuing enhanced day cleaning of the College.
Assessing risk and applying appropriate safeguards across activities and events. The College will continue to assess the risk posed by other planned events and will adjust plans as necessary – organisers will communicate directly with parents and students of the appropriate COVID safe measures implemented.
Reducing visitors to site, especially for large gatherings and always practicing appropriate social distancing and strongly encouraging mask wearing for those who do attend.
You can access the correspondence in full via this link
Thank you
Finally, thank you to all members of the St Edward's community who have made me feel so welcome.  In the short time I have been here, I can already see what a supportive environment St Edward's is – a place where the boys are at the centre of all we do, with a dedicated staff willing to do all they can so that each boy is supported in achieving their personal best.
Whilst I may not have met many parents to this point, it was wonderful to see so many parents onsite for the Academic Award Assemblies and the Year 10 Subject Selection Evening.  As we all know, in recent years it has been difficult to welcome visitors onsite as much as we would like to, and schools have not been the same vibrant communities due to this.  I look forward to meeting many more members of the community throughout this term.
Cameron Alexander
Acting Principal