Acting Principal's Message
Edmund Rice Education Australia Touchstone
Inclusive Community
Our community is accepting and welcoming, fostering right relationships and committed to the common good.  A Catholic school in the Edmund Rice tradition by providing pastoral care that nurtures the dignity of each person as uniquely reflecting the image of God.
National Child Protection Week
National Child Protection Week (4-10 September) is an annual event starting on the first Sunday of September. This year's theme 'Every child, in every community, needs a fair go' aims to spread the message that to treat all of Australia's children fairly, we need to make sure every family and community has what kids need to thrive and be healthy.
St Edward's College as a school in the Edmund Rice tradition is committed to the safety of all students entrusted into our care.  All children and young people who come to St Edward's College have a right to feel and be safe. We are committed to providing a child safe and child friendly environment, where children and young people are safe and feel safe and are able to actively participate in decisions that affect their lives.
We have a zero tolerance for child abuse and other harm and are committed to acting in students' best interests and keeping them safe from harm.
The College regards its child safeguarding responsibilities with the utmost importance and as such, is committed to providing the necessary resources to ensure compliance with all relevant child protection laws and regulations and maintaining a child safe culture.
Each member of the College community has a responsibility to understand the important and specific role that they play individually and collectively to ensure that the wellbeing and safety of all students is at the forefront of all that they do and every decision that they make.
Visit https://www.erea.edu.au/national-child-protection-week/ to find out more about the campaign, including activities for families.
2023 College Captain and Vice-Captains
Building on the recent announcement of the 2023 Year 12 Prefects, I have great pleasure in announcing the College Captain and Vice Captains.  Congratulations to: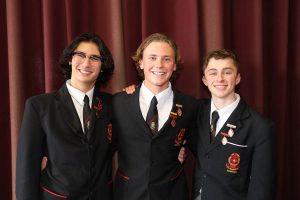 College Captain: William Shaddock
College Vice-Captain: Fletcher Moore
College Vice-Captain: Noah Nakagawa
These young men have accepted their call to leadership and service to the College community.  On behalf of all staff students and the wider community I offer our prayers and support during their leadership journey.  May they be inspired by the leadership of Jesus, as seen in the Gospels, and Blessed Edmund, whose example of inclusivity, compassion and love is the standard to which we all aspire.