Junior Basketball
The 2023 junior boys basketball team won the BBSSSA title at Breakers Indoor Sports Stadium in Terrigal on 14 August.
In the round robin, the St Edward's College squad defeated teams from MacKillop Catholic College, St Leo's Catholic College, St Paul's Catholic College, Mater Maria Catholic College, St Brigid's Catholic College and St Peter's Catholic College. In the grand final, the boys started out a bit slow but blitzed Mater Maria in the second half, winning by a score of 42-23. Throughout the tournament, St Edward's boys averaged 35 points a game, allowing only 18 points per game.
With their win at the BBSSSA tournament, the St Edward's junior basketball squad next competed in the NSWCCC finals at the Bankstown Basketball Stadium in Sydney's southwest on 30-31 October. The boys won Pool B games against St John's Catholic College Dubbo, St Mary's Cathedral College, and Edmund Rice College Wollongong. In the quarter finals, the Eddie's boys were soundly beaten by St Francis de Sales College, who would go on to win the grand final. In the state tournament, the junior team averaged 25 points a game while allowing their opponents 28 points per game.
Oscar McMahon, Austin Romain and Max English led the team with their scoring. Aden Tillot, Joel Washington and Fletcher Bush played great defence and were tasked with keeping the opposition in check. Jonah Bromfield, Ike Diffin and Rasmus Borg dominated the defensive boards. Nate Frohmuller, Joshua Fenton, Joshua Winter and Mason Potesta provided offensive assists and showed great all-around hustle each game.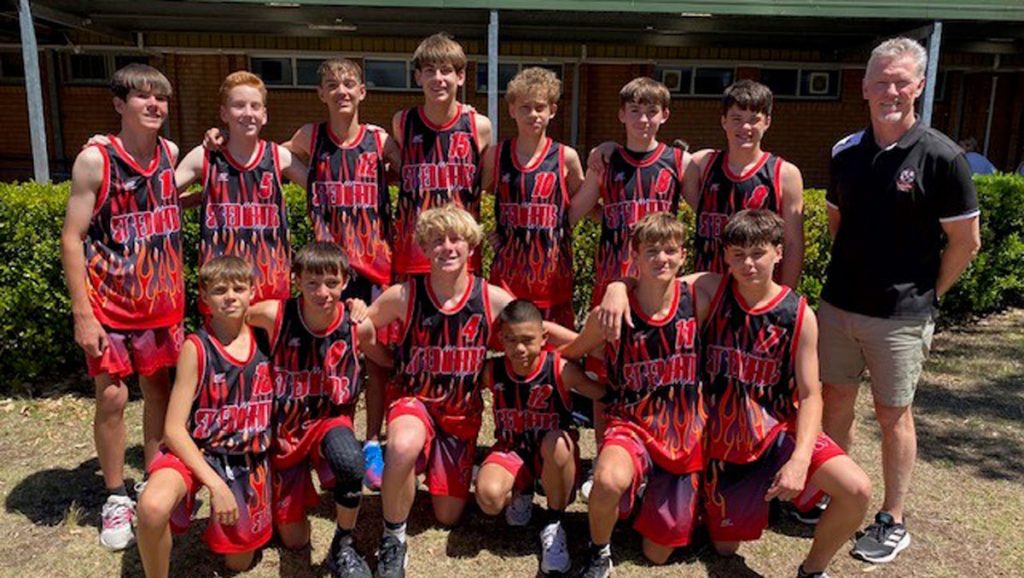 Return to Newsletter