Two Gold Medals for Bailey Chandler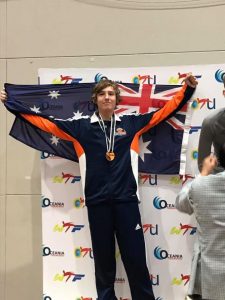 Two gold medals for Bailey Chandler (Year 10) in the Australian Taekwondo NSW State Championships!  A Total Knockout in the 2nd round of the first event gave Bailey his first gold medal and a point score of 44 – 30 in the second event gave Bailey his second gold medal at the recent Championships in Sydney.  An outstanding result for a very talented young sportsperson – congratulations Bailey.
Following the NSW State Championships, Bailey was selected to compete in the New Zealand Open Tournament in May where he won a Bronze medal, his first in an international tournament.  Bailey will now start training for the Australian National Championships to be held in Victoria this October.