Year 7 and 8 Oztag Gala Day
Central Coast Secondary Schools Oztag Gala Day was a great day had by all. The weather was perfect and the boys were excited to represent the College.
Both the Year 7 and Year 8 teams had tough pools, but they played like champions. They supported each other and showed sportsmanship and commitment. Neither team have played together as a team before, yet you wouldn't know this from how well they functioned on the field.
Year 7 started with a strong win against Northlakes High School, but they had a tough pool, playing the eventual overall winners of the day, Tuggerah Lakes Secondary College Tumbi Umbi, in their second game. They showed excellent teamwork and determination through their communication and encouragement.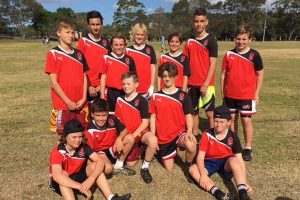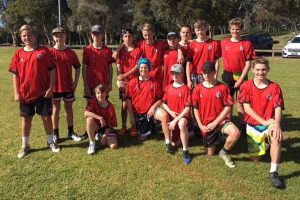 Year 8 won their pool, moving into the quarters in a strong position. They drew to Wadalba High 4-4, and took out the semi finals against Terrigal High. The Grand Final was always going to be a challenge against a strong Tuggerah Lakes Secondary College, Tumbi Umbi side, going down 6-3 in the end. Once again, the boys never gave up and pushed each other to the end.
Every boy stood out on the day for a variety of reasons, whether they were highest try scorer, a great motivator and communicator, had the best step, or the fastest pace, I am so proud of all their efforts and it was a pleasure to support them on the day.
Ms Nowalinski
Coach