Verbal Combat
On Wednesday 15 August Brainstorm Productions presented their student wellbeing program 'Verbal Combat', for Year 8.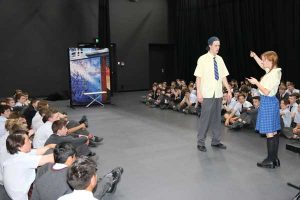 Words are powerful. Words can hurt and cyber bullying is devastating. Verbal Combat is a live theatre program that follows three friends who learn that their online words can last forever. The desire to fit in and be liked is strong and when one friend starts to post witty, but mean rumours to get more online likes, the play takes a cruel twist. All too soon, the posts are wreaking havoc in all their lives and the characters quickly discover that there is no easy way out. Verbal Combat is essential learning, that addresses the dire consequences of cyber bullying and will help students understand that their digital footprints are hard to erase and so are their mistakes.
Verbal Combat is part of our student wellbeing curriculum and the program has been developed in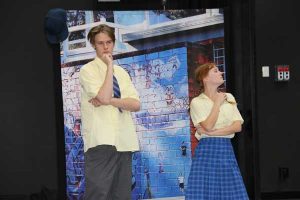 consultation with teachers, psychologists, as well as real-life student experiences. The methodology of the program is safe, supportive and nonjudgmental and designed to provide students with positive and useful tools that they can use in their everyday lives.
More than 350,000 Australian students have already benefited from Brainstorm Productions multi award-winning educational theatre programs over the past twelve months. Their programs cater to the specific wellbeing needs of students, helping to create a healthy and harmonious school environment. If you would like to know more about Brainstorm Productions, visit their website at www.brainstormproductions.edu.au