The Latest from the English Faculty
Black Out Poetry in Mrs McDonald's Year 10 Class
Mrs McDonald's Year 10 English class have kicked off the year by studying a Module titled Page to Screen.
The module is an exploration of intertextuality, specifically in the forms of adaptation and appropriation. Students will explore how art creates art, or how literature is made by literature. Recognising and understanding intertextuality leads to a much richer reading experience which invites new interpretations as it brings another context, idea, story into the text at hand. Students will engage in close study of a prose fiction text and visual adaptation/appropriation in film or television. Mrs McDonald's class have selected 'The Great Gatsby' by F Scott Fitzgerald as their core text and have recently had so much fun in the classroom by using a second-hand copy of the novel to create some 'Black Out' poetry.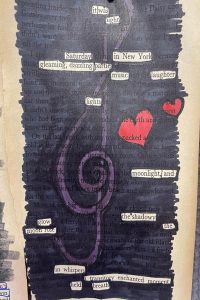 Blackout Poetry is the name of any sort of poem that is derived from blacking out any unwanted words from a paragraph or book using whatever inking or colouring tools you have on hand. Basically, anything that has words can be turned into a blackout poem so long as the artist has the ability to block out the particular words they want by blacking out the others. Mrs McDonald's class used coloured texts, highlighters and sharpies to create their own original poems using pages from The Great Gatsby. The lesson was a fun, engaging and original way to use the text to re-imagine it and think critically and creatively.
The poems created were inspiring and unique, prompting some insightful discussions about the valuing and re-valuing of texts in our modern society. The examples here are just a sample of the many different poems created by her students.
---
CORE English classes off the an exciting start
2023 has started with excitement and awe for our new Year 7 cohort who are settling into life as high school students. The year group arrived to start the year full of curiosity, finding their feet with the support of their CORE teachers Ms Atayde accompanied by Mr Bonello, Mrs Robinson accompanied by Mrs Titheradge, Mr Odden, Mr Sullivan, Mrs Englund and Mrs Pearson.
English as part of CORE classes has kicked off with a module focussing on Belonging and poetry with students able to draw upon their learning from primary school to make links and connections to the new content they are experiencing. Students in Year 7 English will be reading a selection of poetry with ideas around the concept of belonging and diversity, leading to an assessment task later in the year.
Coupled with this, each CORE English class will be focussing on reading and literacy skills as a way to raise confidence and enjoyment in the subject area. Mr Odden's, Mr Sullivan's, Mrs Englund's and Mrs Pearson's classes will be engaged with a new online platform called 'CARS AND STARS'  an individually tailored program which the students will spend allocated time working through. It is hoped that this program will prepare students for both the upcoming NAPLAN tests scheduled for March and support reading strategies to improve literacy levels overall. Mrs Robinson's and Ms Atayde's classes will focus on more concentrated reading strategies utilising the assistance of Mr Bonello and Mrs Titheradge by running specialised reading groups, comprehension-based activities and the Macquarie Literacy Program for small group instruction.
Students feedback on their experience so far in English has been very positive and boys are enjoying their first few weeks as Eddie's boys!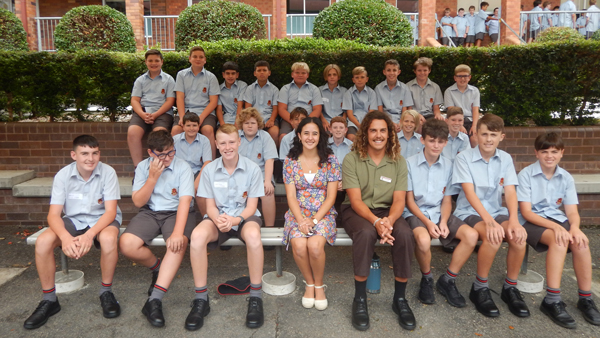 ---
Mrs McDonald awarded Highly Accredited Teacher certification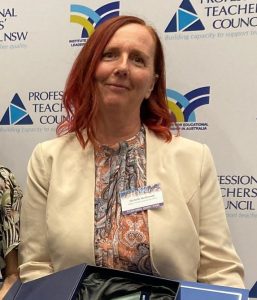 Mrs Michelle McDonald, Leader of Learning for English, has recently been awarded her Highly Accredited Teacher certification status after her dedication and application to the task. There are currently only 274 out of 94,000 teachers across NSW who are either recognised as Highly Accredited or Lead Teachers, meaning Mrs McDonald is one of the rare few to be acknowledged at this level.
Accreditation at Highly Accomplished Teacher level is a reflection of Mrs McDonald's consistent and continuing successful, outstanding professional practice as described in the Australian Professional Standards for Teachers. Teachers who apply for accreditation at the higher levels are advocates of their profession and are all round performers, as exemplified by Mrs McDonald. Her success is demonstrated by her record of improved student learning and implementation of innovative teaching and learning strategies. She consistently demonstrates the capacity to lead others and provide support and advice for colleagues as a result of the outstanding quality of her teaching practice and through her contribution to the school and educational community. Accreditation at this higher level not only recognises Mrs McDonald's expertise, but also raises the status and standing of the teaching profession in the wider community.
The English department and students at St Edward's College are both blessed and privileged to have Mrs McDonald leading and guiding them every day. She is the first teacher at St Edward's College to receive this acknowledgement and will be presented with her certificate later this year at an official ceremony in Sydney.
---