The Latest from Food Technology and Hospitality
Term 2 has been very busy for the students studying Food Technology and Hospitality.
Year 11 Hospitality boys had a very successful work placement at various venues across the Coast, and one of our students was even offered casual work.
Again, St Edward's participated in the Broken Bay Battle of the Chefs which was held at St Peter's College, Tuggerah. Our team consisted of Sebastian Brown in Year 12, Tobie Rutherford and George Butlin both in Year 11. The boys were great ambassadors for the College with great camaraderie and wonderful team work and time management. They produced a "Warm Pear and Rocket Salad" for entrée, "Shallow Poached Chicken with Garlic Cream Sauce" for main course and a "Chocolate Brownie with Ganache" for dessert.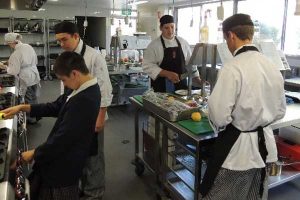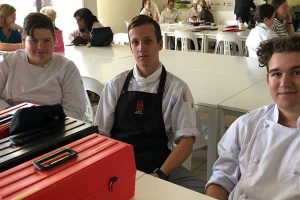 Year 9 Food Technology have been studying a Nutrition and Consumption Unit and are creating exciting recipes and developing their culinary skills and mastering techniques such as van dyking. They are currently undertaking a study into a disease of affluence, and will then present their study and peer educate their classmates.
Year 10 are studying Food and the Australian Identity. Their culinary journey had taken them from "Kangaroo and Crocodile Kebabs" to "Thai Poached Chicken". They are looking into cultures that have influenced Australian eating habits and researching the impact this has had on our multicultural society.
Year 11 are learning about Food Quality and have recently had an incursion with Sharyn from Cake and Plate. Sharyn demonstrated various cake decorating techniques using fondant and the boys found this both challenging and engaging.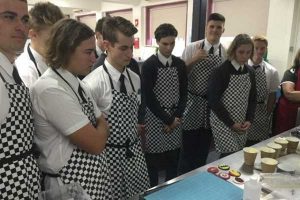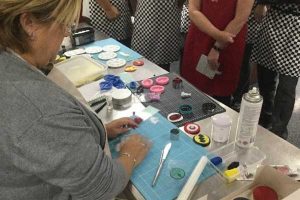 Year 12 are on the countdown to finishing their HSC course. They have embarked on a Food Product Development Unit where they will utilise the "7 Steps in Food Product Development" to design a prototype for their own snack foods.
All in all, the faculty has been busy creatively cooking up a storm.
Anne McDonald
Food Technology Coordinator