Sprint Kayaking
Sprint Kayaking
At the recent inaugural Asia Pacific Sprint Cup in Adelaide, Fletcher Armstrong and Byron Chadwick competed for Australia and after three days of exciting racing on West Lakes, Australia won the inaugural cup.
The first time event saw 136 junior and developing canoe sprint athletes compete in the Under 16, Under 18 and Under 21 age groups in the Olympic class events as well as mixed gender relay events. In its first edition, six countries competed at the event with athletes coming from Australia, Japan, Singapore, New Zealand, Tahiti and the Cook Islands. Points were awarded for each race with Australia winning the overall point score with 490 points ahead of New Zealand in second (407) and Japan in third (247).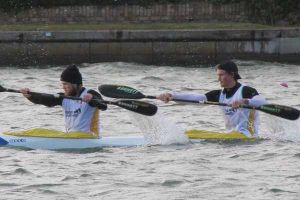 Fletcher competed in the U16's and was the 200 m paddler who anchored the winning all age mixed relay team.  By the end of competition, he achieved 4 Gold and 2 Silver, medalling in every event he competed.  Fletcher travels to Germany and Slovakia in May/June to compete in the European competition.  Byron Chadwick competed in the U18's and he achieved 2 Gold and 1 Silver. Eddie's Old Boy, Harry Armstrong, also competed and won 3 Gold, 1 Silver and 1 Bronze.  Byron and Harry both travel to Bulgaria in July to compete at the Junior Worlds event.  Best of luck to all boys and enjoy the experience!