Social Justice Opportunities
Waterford Opportunities for Years 8 to 11
Please ensure that your son is working towards completion of the compulsory St Edward's College Waterford Program which is due at the end of Term 3.  Aiming for Edmund Rice Honours (100 hours) should be a goal for many of our boys.
Examples of opportunities include:
School-based e.g. Coast Shelter, Kings Cross, Homeless Sleepouts, Reader/Writer, Peer Mentoring, Edmund Rice International and many more
Community groups eg surf clubs, parishes, sports clubs
Fundraising for disadvantaged people/groups
Please communicate with Mr Dell or your son's Religious Education teacher about the Waterford Program, should you have any questions.
Founder's Day
The fun day will be held on Friday 31 August, BBQ lunch and drink is included in the $20 donation, as well as a day of fun activities and raffle prizes.This event is held every two years at the College. More details will be given closer to the event.
It would be appreciated if students could pay their $20 donation to the front office as soon as possible. The donation will go towards the $20,000 the St Edward's College community will raise through Founder's Day to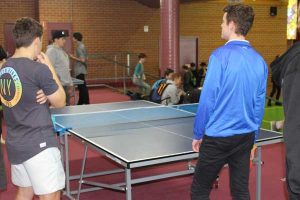 support the Christian Brothers work in Kenya, as well as Edmund Rice Camps, Walgett, St Joseph's School and St Edmund's Wahroonga.
Asking the Questions ….
All boys at St Edward's are given the opportunity through the curriculum, Waterford, guest speakers, retreats and excursions, to consider and develop their Christian values about Social Justice issues in our world.  Some of these issues include:
What is the truth of Australia's history and how do we respond with compassion to our Aboriginal people who have suffered massive dispossession.
What are the human rights, facts and values surrounding our response towards asylum seekers and refugees.
What can our attitude be towards Muslims, once we come face to face with our Islamic people, in everyday settings.
Underlying all these questions (and others) is the fundamental power, control and manipulation of some media, who use distortion, manipulation and sensationalism to draw in their audience.
Education, especially in our schools, is a proven way to develop a generation of young people to be armed with the facts so they can go out into our world as informed people, who can relate to and respect a wide variety of people they will encounter.