Reconciliation Week
The theme for Reconciliation Week this year was "Be Brave, Make Change" and St Edward's College embraced working towards a culture of Reconciliation.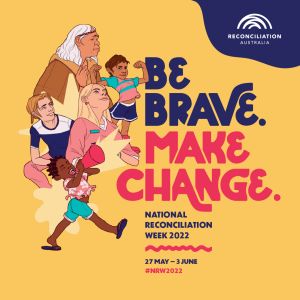 The week began with a Liturgy where the students were presented with information about 'The Uluru Statement from the Heart', musical performances and an overview of the activities for the week ahead.
On the Monday staff and students watched an episode of SECTV which focused specifically on Reconciliation Week 2021 and how the students of St Edward's believe we can be brave and make change in our daily lives. The boys identified Ms Tracey Burraston's talk and Mr Tim Selwyn's smoking ceremony as some of their fondest memories from Reconciliation Week 2021. Other students spoke about their visit to Walgett and how it allowed them to see that it is a responsibility of all citizens of Australia to ensure we open our hearts and minds to the reconciliation journey.
On Tuesday, the students were given the opportunity to watch 'The Australian Dream' featuring Adam Goodes in the theatre and Tim Selwyn, a proud Wongaibon man, had a yarn with Year 10 about what it means to be a young man and the responsibilities that entails. There were also members from our Reconciliation Action Plan Committee that spoke about what 'Being Brave and Making Change' meant to them.
On Wednesday and Thursday the students and staff all participated in composing their own Acknowledgement of Country's that were heartfelt and authentic. Some examples of these were:
Today, my feet are placed on the lands of the Darkinjung people. I thank the many traditional owners of this special country for loving the trees, nurturing the lands, protecting our waters and celebrating the skies. We have much to learn from the custodians of the oldest continuing culture, and we are listening.

– Mr Reynolds

I would like to acknowledge the land, sea, and sky, and all the people that have walked before us.

– Joseph Stitt (Year 8)

I am thankful for our Aboriginal and Torres Strait Islander people and the rich tradition of storytelling, singing and dancing that they have celebrated with for thousands of years. I sing, dance and share stories in their honour.

– Ms Emmett 

I acknowledge the Original Custodians and Caretakers of this land on which we stand, the Darkinjung people. I acknowledge and am grateful for the millennia of care and history that those before have staked in this land. This land which has and continues to offer great opportunity for myself and for others. I pay my respects to Elders past, present and emerging and hold them in high esteem as I tread softly across their lands. I was not the first and I will not be the last.

William Frost-Foster (Year 12)
The RAP Committee would sincerely like to thank staff and students who participated in Reconciliation Week and who continue to embrace our reconciliation journey with open hearts and minds.