Principal's Message – 6 December 2018
Edmund Rice Education Australia Touchstone
Justice and Solidarity
As a Catholic School in the Edmund Rice Tradition, we are challenged to adopt prophetic stances in the light of Gospel practices and advocate for just causes.
Australia, like many countries across the world, are experiencing increasing rates of domestic violence and in particular violence against women. Research indicates that violence against women and their children has rapidly become a serious issue across all demographics. The Australian Government in their campaign "Violence against women, let's stop it from the start" published the following statistics highlighting the current trends in violence against women.
1 in 3 women has been a victim of physical or sexual violence, since the age of 15, by someone known to them. (2016 Personal Safety Survey, ABS)
Almost 1 in 4 women have been emotionally abused by a partner since the age of 15. (2016 Personal Safety Survey, ABS)
1 woman dies almost every week at the hands of a current or former partner. (2015 Australian Institute of Criminology report)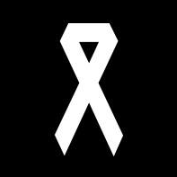 There is a clear link between violence towards women, and attitudes of disrespect and gender inequality. Even though most Australians recognise that violence against women is a serious issue, fewer people realise where the behaviours and attitudes can start – in childhood. Adults have the strongest influence on young people's attitudes about disrespect towards women. But when we see it in action, we tend not to get involved. Without realising it, what we say and do is shaping young peoples' views about more serious behaviours.
1 in 4 young people don't think it's serious when guys insult or verbally harass girls in the street. (Our Watch: The Line Campaign 2015)
1 in 4 young people don't think it's serious if a guy, who's normally gentle, sometimes slaps his girlfriend when he's drunk and they're arguing.
1 in 4 young men believe that girls like guys to be in charge of the relationship.
1 in 5 young people believe there are times when women bear some responsibility for sexual assault. (VicHealth National Community Attitudes Survey 2013)
Source: https://www.respect.gov.au/the-campaign/the-issue/
St Edward's College is in a unique position to make a clear statement advocating for changes in behaviours and attitudes in relation to domestic violence. With over eleven hundred boys and men attending the College each day, we have a great opportunity to educate, to listen, to  learn about, to challenge sexist and abusive behaviour and to empower young men with knowledge on how to take action if they see violence happening. We have a responsibility to foster the importance of establishing respectful relationships with women and to support women's programs and initiatives that raise awareness about the issue.
On Friday November 23, senior students led our annual White Ribbon Day Assembly. This assembly highlights the issues associated with domestic violence towards women and challenges all males present to take action in advocating for change. All students and male teachers stood in solidarity in making the following oath:
I will stand up, speak out and act to prevent men's violence against women.
Where this assembly provides a wonderful opportunity to raise awareness about the issue, as a community we believe we can do more. In 2019, one particular social justice focus will be advocating for women and a reduction in domestic violence. If we are to be true to this touchstone of Justice and Solidarity, we have a responsibility to empower boys with the knowledge, skills and role modelling to ensure that they become young men who value the importance of respectful relationships and are prepared to challenge behaviours that promote abuse and harassment of women.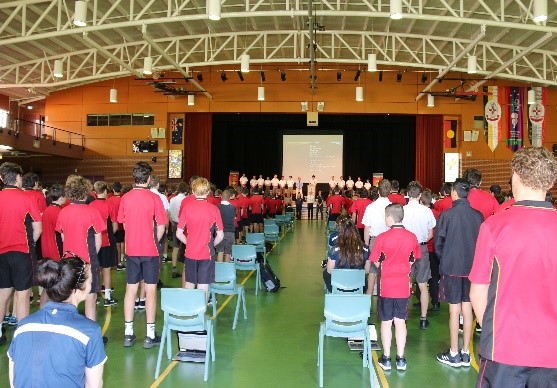 End of Year Reports
The Year 7-10 Semester Two report will be uploaded to the College Portal at the end of the term.  These reports will provide an end of year grade, a teacher's comment and an indication of application and effort in terms of the College Code for Learning. I encourage all parents and students to take the time to read these reports carefully, paying particular attention to the teachers' comments and the indicators associated with the Code for Learning. Students have been encouraged this year to establish learning goals based on the Code for Learning and the reports each term have provided valuable feedback for each student in association with these goals. In 2019, students will be asked to establish new learning goals for the year, and the feedback provided in this report will assist in developing these new goals.
Annual Performing Arts Evening
On Monday December 3, the Annual Performing Arts Evening was held in the College Theatre. Some wonderful talent was on show from students studying Drama and Music in Years 9 to 11. Group performances and monologues were presented, along with musical items and the talent displayed was excellent. The Year 11 Entertainment class assisted on the evening with lighting and sound, with a very professional final product. The many parents who attended the evening were thoroughly entertained. Ms Jodie Connor, Mrs Josephine Emmett, Mr Paul Toole and Mr Richard Droz, our wonderful Drama, Entertainment and Music teachers, are to be commended on the brilliant job they do in developing the students' skills and confidence to be able to perform so admirably.
Click Here to view the full gallery

54 Images
Christmas Liturgy
On Wednesday December 12, the Annual Christmas Liturgy will be celebrated in the Edmund Rice Centre and hampers will be presented to the organisations mentioned above.  This is a special day in the life of the College, and is a fitting end to the school year. The liturgy will commence at 10.20 am and parents are welcome and encouraged to attend and experience the wonderful warmth and giving nature of the St Edward's Community.
Annual Awards Evening
A reminder that this important event as advertised in our school calendar will be conducted in the ERC on Wednesday December 8, commencing at 7.30 pm sharp.  Parking will be available in Russell Drysdale Street, in Frederick Street, in the St Joseph's College Staff car park in Russell Drysdale Street and other nearby streets.  Award winners need to start assembling at 6.45pm and be attired in the complete winter uniform, including blazer, tie and black polished school shoes.  There are no reserved seats for this function, so early arrivals will have the choice of seating in the ERC.  In order to receive a nominated award, a student must be present on the night, unless there is a very valid documented reason for his absence. I am making a very special appeal that all award winners and their families remain in the ERC until all awards have been presented.  This small gesture and courtesy provides appropriate recognition to all Award winners.
College Board Expressions of Interest
The St Edward's College Board requests interested members of the community to submit an expression of interest to fulfil the role of Board member.  School Board members are volunteers working collaboratively with the Principal in the stewardship of the College within the context of EREA. Members of School Boards are chosen to meet the expertise requirements of the Board, not as representatives of any body. The Board is currently seeking members who have expertise in the areas of building or project management. Any person interested in being considered for a position on the St Edward's College Board is asked to complete an expression of interest form that is available below.
The expressions of interest should be addressed to the College Principal at principal@stedwards.nsw.edu.au
Further information regarding the design and functions of the College Board is available from: