Principal's Message 29 March 2018
– Justice and Solidarity –
As and Edmund Rice Community we are committed to seeking opportunities to participate in immersion programs in which students and staff form relationships, work with and learn from those on the margin.
This expression of the Justice and Solidarity Touchstone challenges us as an Edmund Rice Community to look beyond ourselves to those at the margins within our own communities, nationally and abroad. St Edward's is continuing to explore opportunities in which we can effectively respond to this challenge. Our work with St Joseph's College, Walgett, and the Edmund Rice ministries in Nairobi, Kenya, each year, provide wonderfully challenging and rewarding experiences for those who attend. Two further initiatives introduced in 2018 further exemplify the commitment of the St Edward's staff to working with and learning from those at the margins.
The first of these initiatives involves one of our Science teachers, Mr John Moloney.  John will be attending an EREA immersion to St Boniface's in the Kimberley region of South Africa. John's role in this immersion is to work with teaching staff in their professional learning in teaching Science. John is currently developing a range of resources to share with teachers from this school, which is located on the fringe of one of the largest slums in South Africa. John will live with the Christian Brothers in their residence on the school campus and participate in a range of cultural experiences as well. John is paving the way for other teachers within EREA, as he is the first teacher from an EREA school to participate in such a program. John will provide a report on his experience in a future newsletter.
In addition to John's participation in this life changing experience, the staff and volunteers of St Edward's are sponsoring a young student in Nairobi, Kenya, to attend school. Through the work that the College does with the Loreto Sisters working in the Kibera slum in Kenya, we have identified a student that, without the support of St Edward's, would not be in a position to attend school. Attendance at school is a major contributing factor in breaking the poverty cycle that exists in underdeveloped countries. A brief biography of Frederick Were, the student that we have sponsored, appears below. We look forward to tracking Frederick's progress over the coming years.
Name
Gender
Birthday
Grade
School
Favourite Activity
Favourite Game
Favourite Food
Favourite Colour
Favourite Subject
Dream
Fredrick Were
Male
5 September 2005
5
Elwangare Primary
Drawing
Football, Plays No 5
Maize, Beans, Rice
Blue
Maths and Science
To be a teacher
Easter Liturgy
St Edward's and St Joseph's will come together once again on Holy Thursday to celebrate Easter through a combined Liturgy. As part of this liturgy, students from both Colleges perform a drama representation of the Stations of the Cross, telling the story of Jesus' persecution, death and resurrection. Through this important event we take time as a Christian community to reflect on the true messages of Easter. I take this opportunity to wish all families a safe, happy and holy Easter.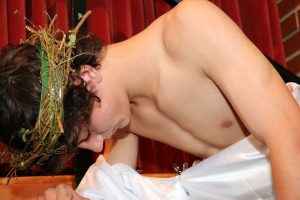 Visible Learning
Staff at St Edward's College are committed to ensuring that our teaching practice remains contemporary in meeting the learning needs of students. In 2018, we have embarked on a professional learning approach, based on the research of Professor John Hattie from the University of Melbourne, titled Visible Learning. A key component of this work is being able to analyse the impact that we as teachers are having on student learning, so that we can effectively plan to implement teaching and learning strategies to engage students in their learning.
Throughout Terms 1 and 2, we are conducting research in a variety of ways that will provide evidence from teachers, students and parents about learning at St Edward's College. Parents, students and teachers will be invited to complete online surveys, specifically targeting key aspects about student learning. Teaching staff also believe that student voice is an important aspect of this research, so in the coming weeks a random selection of students will be interviewed by senior students about learning at St Edward's. This feedback will be invaluable in assisting us meet the specific learning needs of boys at the College.
Another key component of the research conducted by Professor Hattie is explicit teaching. Teachers across the College are introducing the concept of Learning Intentions and Success Criteria into their teaching. Learning Intentions are descriptions of what learners should know, understand and be able to do by the end of a learning period or unit. Learning intentions are the basis for tracking student progress, providing feedback and assessing achievement. In addition to learning intentions, students may also have individual learning goals that they address in their learning. Success criteria are the measures used to determine whether, and how well, learners have met the learning intentions. It is through this explicit approach to teaching, that teachers are able to ascertain a deeper understanding of student learning in each lesson. I encourage parents to regularly talk with their sons about their learning, asking them to describe what they may have learnt in a particular lesson or series of lessons. Providing students with an opportunity to discuss what they have been learning reinforces their understanding of the concepts covered in class.
Parents are encouraged to be active participants in their son's education. Research strongly suggests that parent engagement and support in their son's learning is a major contributing factor to academic success. Finding different ways of engaging your son in conversation about his learning can sometimes be difficult as boys begin their teenage years. Click the image below for the link to an article by the NSW Department of Education that provides ten tips for parents to help their sons succeed at school.

Goal Setting
In Tutor last Friday, students were provided with the opportunity to discuss with members of their Tutor class their learning goals for the year. It is important for students to develop the capacity to set high expectations of themselves in relation to their learning. It is equally important that they be provided with time to reflect upon and be provided with advice and feedback regarding their progress. Students sharing their experience in a guided conversation has great potential for students to learn from each other allowing more senior students to role-model positive learning behaviours. At the end of this term, students in Year 7-11 will be provided with an Interim Report, which provides feedback regarding their application and effort so far this year. Year 12 students will be issued with a a Mid-Course Report that provides an assessment mark and rank, an examination mark and rank and a comment for each course. These reports are designed to give students and parents a clear indication of how students are progressing in each course. Parents will be invited to attend the parent/teacher interviews early in Term 2 to discuss with teachers in more detail their son's progress. It is important that students attend these interviews with their parents to ensure that they are provided with feedback first hand.
Year 12 Mid-Course Exams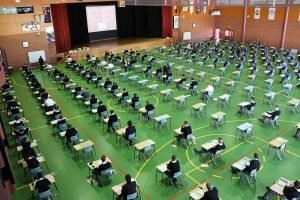 Year 12 Students will be sitting their Higher School Certificate Mid-Course examinations in the last two weeks of term. These examinations provide students with a very good indication of the progress that they are making in each of their subjects. Students have been provided with an examination timetable and are only required to attend school to sit the examinations. Students are welcome to use the Shanahan Learning Centre during the examination block to study and many Year 12 teachers will be on hand to assist boys in their preparation for the exams. I wish all Year 12 the best of luck in these examinations.
St Edward's Old Boys Union
On Monday 7 May at 7.00pm, an Annual General Meeting will be held at the College for the St Edward's Old Boys Union. The current Executive members of the Old Boys have devoted countless hours over fourteen years in the promotion of this important St Edward's Community group and are looking to 'hand over the reins'. To sustain the Old Boys network into the future, we are calling for expressions of interest from any ex-students who would be interested in contributing to this group by generating new ideas and enthusiasm in the promotion of the work conducted by the Old Boys in supporting St Edward's College. Any ex-students who may be interested in joining this group are invited to attend the meeting on 7 May or email the College on info@stedwards.nsw.edu.au for further details.