Principal's Message – 2 August 2018
Edmund Rice Education Australia Touchstone
Liberating Education
A Catholic School in the Edmund Rice tradition encourages all members of the school community to work to the best of their ability, to realise their potential and to strive for equity and excellence
On Thursday July 26, the College community gathered with parents to celebrate the wonderful academic achievements of students in Years 7-12 at our annual Semester One Academic Assemblies. At the start of the year, all students were encouraged to be the best they can be in their academic, cultural, religious, social justice and sporting endeavours. These assemblies provided the opportunity to acknowledge the many fine young men at St Edward's who have set themselves learning goals for 2018 and worked hard in achieving these goals. Awards were presented in three categories –  Consistent Effort, Academic Achievement and Outstanding Academic Achievement. Students receiving the Consistent Effort award were identified by their teachers as displaying an ongoing commitment to their studies. Students who achieved an Academic Achievement Award are generally performing very well in each of their courses and students receiving an Outstanding Academic Achievement Award are the students who have been nominated by their teachers as achieving the highest grades in most, if not all, of the subjects. Peter Dignam, the College Dux in 2017, and Br Peter Hester, past Principal of the College, attended the assemblies to present awards to students. It was very pleasing to see so many boys being acknowledged for their efforts. I would particularly like to acknowledge the Outstanding Academic Award winners. To achieve this meritorious award is a testament to their application and effort in all of their courses throughout Semester One. The names of students achieving this award are listed below. All students are encouraged to read carefully the feedback from their Semester One reports to establish areas for improvement. It is hoped that many more boys will receive awards at the Annual Awards night in December.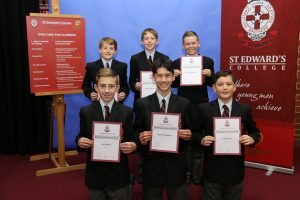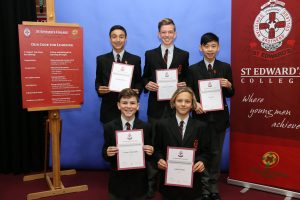 Year 7

Levi Bailey
Thomas Kirkland
Noah Nakagawa
Adrian Pozo

Jayden Redfern
William Shaddock

Year 9

Samuel Beatson

Oscar Crowe
Otis Farrugia
Bryson Hartle
Harrison Markin
Joshua Zaia

Year 11

Riley Bissett
Hayden Chapman
Jake Vidler

Year 8

Ikey Allen
Owen Bradstreet
Fergus Clydesdale
Sean Go
Michael Holmes
Gabriel Scott

Year 10

Daniel Brazier
Joseph Healy
Aaron Judd
Daniel Palmer
Jordan Terzian


Year 12

Adam Bing
Thomas Kennedy
Liam Meggs
Mitchell Meredith
Patrick Rosee
Liam Seymour



Justice and Solidarity
As an Edmund Rice Community, we are committed to promoting an integral ecology through demonstrating deep reverence for the earth as both God's work and our home, promoting ecojustice and working towards a sustainable and regenerative future for all creation.
St Edward's College maintains an ongoing commitment to the promotion of ecological sustainability. The staff and students continue to work within our own school and the local community in raising awareness about environmental issues that if left unaddressed will see a far different world for our children and generations to come. Mrs Kylie Beynon is a St Edward's College Administration staff member who works tirelessly as a member of our environmental portfolio. This committee maintains the responsibility of bringing to life the College's response to ecological sustainability. Most recently, Kylie was responsible for partnering with Avoca Beach Markets in establishing a stall in the name of Take 3 for the Sea. Below is an outline of the College's involvement in the event.
Environment Portfolio:  An Eddies and Tatham Project Initiative
Students volunteered their time during the holidays at the Avoca Beachside Markets on Sunday 22nd July to support Take 3 for the Sea and Plastic Free July.  Students ran a BBQ and the Take 3 Plastic Pollution Maze and raised $704.15 for Take 3 for the Sea.  Rory Mackintosh presented the proceeds to Mandy Marechal of Take 3 for the Sea at our first assembly for Term 3.
We thank the following students and staff change makers who volunteered their time. Dale Barrett, Flynn Gallagher, JJ Grant, Hayden Hansen, Rory Mackintosh, Toby Powick, Enrique Rodriguez-Hunter, Max Thornton, Joshua Toohey and Seb Waugh.  Staff involved are Mr Jon-Paul Grant, Mrs Michelle McDonald, Mrs Tanya Olip and Mrs Kylie Beynon.
These students will receive Waterford Hours for their commitment to our environment and inspiring others in our community.  Small changes = Big Difference.
The Environment Portfolio encourages all students and our local community to get on board with the Take 3 for the Sea message – please share what you are doing to make change and use the hashtag #stedwards #tathamproject #take3forthesea #waterford #sustainability #plasticfreejuly #environment on Facebook or Instagram.  If you are interested in future, projects please see Mr Grant.
A massive thank you to Take 3 for the Sea for this opportunity, Avoca Beachside Markets, Edwards Butchery and Avoca Beach Rugby Club for their support of the event.
Click Here to view the full gallery

16 Images
Year 12 Trial HSC Exams
The HSC Trial Examinations will begin on Monday August 6 and conclude on Monday August 20. These examinations are the final piece of assessment in many of the HSC courses and significantly contribute to the HSC final mark. I would like to wish all Year 12 students every success in these examinations. The Trial HSC Examination Timetable is available on the website and below:
Founders Day
St Edward's maintains a strong commitment to the promotion of Justice and Solidarity. On Founders Day, we come together as a community in celebration of our dedication to this Touchstone. The event is scheduled this year for Friday 31 August and our aim is to build community spirit and inclusivity at St Edward's. It is anticipated that we will raise twenty thousand dollars that will be allocated to support the Mary Rice Centre for disabled children in Nairobi Kenya, St Edmund's Wahroonga, St Joesph's Primary School in Walgett and Edmund Rice Camps.
The College has a rich twenty-year tradition of celebrating this event on the calendar and we ask for the support of our whole school community in donating twenty dollars per student in the lead up to the day.  This money is being collected at student reception. Students are permitted to attend the day in casual clothing and boys may dress up if they like.
Students will be provided with a BBQ lunch and drink on the day and entry into a raffle where over one hundred prizes including a television, mobile phones, sports equipment and many others that have been donated. The St Edward's staff are working hard to provide a range of fun activities on the day, including rides, oval/outdoor activities, computer games, ice cream/lollies/cake stalls (boys will need some extra money for these) and over twenty fun activities. Attendance on the day is compulsory and the boys in Years 8-11 receive two hours towards their Waterford Project, once they have contributed their twenty dollar donation and attend on the day.
Waterford Project
Parents are reminded that all students in Years 8-11 are required to have completed their minimum fifteen hours of Waterford Community Service by the end of Term 3. It is the boys' responsibility to find ways to complete their hours, through either the College offerings and/or their family's community connections for example through parishes and sports clubs.  Upcoming school-based opportunities offered to the boys are 40 Hour Famine, Homeless Sleep-out and Edmund Rice International. Boys are encouraged to see Mr Dell if they would like to participate in any of these activities. Your son must have his Waterford summary sheet submitted to his Religious Education Teacher by Week 9 of Term 3. Please contact Mr Pat Dell if you have any questions about Waterford.
African Women for Women
This year's immersion to Kenya will take place in the September / October school holidays. The St Edward's community response last year in supporting the collection of women and girls underwear to be distributed by the African Women for Women organisation in Kenya  was outstanding.  This quote form the African Women for Women website provides an outline of the core role of this organisation and the work that they do.
"Women For Women in Africa works with the women and children of Kibera, East Africa's largest slum and one of the largest in the world, by providing education and resources to enable them to live a life of dignity, happiness and hope for the future". http://womenforwomeninafrica.org.au/
I would like to once again call on our community to again support this organisation in 2018. After consultation with Sister Leonida (the leader of this orgainsation in Kenya) we are collecting new boys and men's underwear and small children's beanies to take with us on this year's immersion There is a desperate need for these items of clothing which we take for granted. Our wonderful library staff will be collecting these items from families wishing to donate. Your support of this initiative is greatly appreciated.
St Edward's College Old Boys
The St Edward's College Old Boys Union is holding an informal gathering on Friday 3 August at Six Strings Brewery in Erina. The event is open to all Old Boys of St Edward's. In particular for anyone interested in joining the organising committee of the Old Boys. The night will begin at 6.00 pm and more detail is available on the Old Boys' Facebook page.