Principal's Message – 16 August 2018
Edmund Rice Education Australia Touchstone
Liberating Education
As a Catholic School in the Edmund Rice tradition, all members are challenged to prophetic leadership within the school community and beyond. 
2019 College Prefects
It is with great pleasure that I announce the following students as Prefect Leaders for the 2018/2019 School Year:
These Prefects were selected through a rigorous process involving a detailed written application and student and staff voting. Last Tuesday, Mr Gill, Mrs Pearson and I led these boys through a Leadership Induction Day at Avoca Surf Club. I was instilled with great confidence of the potential of these fine young men to lead the student community at St Edward's over the next year. These boys demonstrated a great passion for the College and their enthusiasm, maturity and commitment to their newly elected role was evident.
The Prefect Investiture Mass will be held on Thursday 6 September.  At this Mass, we will acknowledge our outgoing Prefects for their work over the last year and officially present the newly elected Prefects to the College community. The College Captain and Vice Captains for the 2018 / 2019 school year will also be announced.
NSW Premier's Anzac Memorial Scholarship Tour 2018 – Western Front Commemoration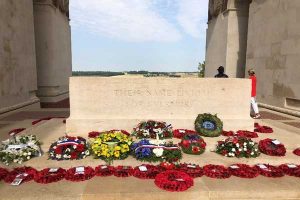 In 2017, six students in Year 9 and 10 completed an application to be chosen to represent the College and NSW at the 2018 NSW Premiers Anzac Memorial Tour. Students applying for this honour participated in a selection process that required them to complete an expression of interest that included a presentation that highlighted the importance of the commemoration tour as well as being interviewed by a panel of staff and a member of the College Board. In what was a very difficult decision due to the quality of the applications, Lachlan Smith, who is currently in Year 11, was chosen as the worthy recipient of this honour. At the end of Term 2, Lachlan and Mr Greg Hannelly, the College's HSIE Coordinator, participated in this tour. Lachlan's account of the experience follows.
Throughout NSW, twenty schools were successful in a ballot and from this process, each school had to select a student based on a set of criteria fundamentally examining the ability to undertake History research. At St Edward's, I was honoured to be the selected student. The HSIE Coordinator Mr Greg Hannelly was also selected as one of the teachers.
The group was farewelled by the honourable David Elliott Minister for Counter Terrorism, Minister for Corrections, and Minister for Veterans Affairs. The first part of the trip was the flight to London where despite the lack of sleep we did an orientation walking tour of London and many historical points of interest including the Globe theatre, dockyards and Westminster Abbey.
The following day we covered 'Old London Town'. The day started early at the Australian War Memorial in Hyde Park. This memorial commemorates the service men and women who served in WWI and WWII by listing the names of the towns in which they were born. We also visited the Imperial War Museum and spent some time here exploring.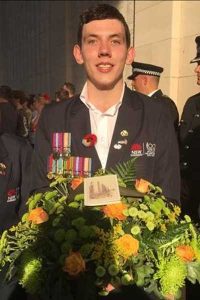 The tour moved then via the Eurostar to Lille and onto Amiens. We spent three days here visiting the gothic Notre-Dame cathedral and the Western battlefields. It commenced with a trip to the Somme (60 000 lost on that first day), Pozieres and Mouquet Farm, Newfoundland Memorial Park, Villers- Bretonneux, VC Corner Cemetery, the Australian Memorial Park, the new Fromelles (Pheasant Wood Cemetery) and the Australian Museum.
On the fourth of July, we attended a special centenary anniversary of the Battle of Hemel. It was an amazing event, televised by the ABC with dignitaries from around the globe. We felt very honoured to be a part of this day. Later we visited the new John Monash interpretative centre and were highly impressed with the efforts to use technology to show the story.
The tour then continued to Belgium and the battlefields of the Salient. Here we explored Ypres, Polygon Wood, German cemetery at Langemarck, – Passchendaele, Tyne Cot Cemetery and then into the Menin-Gate last post ceremony. Again, we were honoured to be there, and I was given the honour of laying a wreath.
The last day in Belgium was visiting the medieval city of Bruges, often referred to as the Venice of Belgium. Cobbled walkways, canal boat rides and a chance to purchase chocolate and gifts. We returned to London and the long flight home.
There were so many highlights, learning about the war from Hyde park curator Brad Menera, meeting and working with twenty positive students from around the state, experiencing events first hand, exploring historical events from primary sources, and above all been taken on an emotional journey through major historical events of the twentieth century.
Lachlan Smith – Year 11
African Women for Women
I would like to once again remind all members of our community of the support we will be providing young men, boys and babies living in the Kibera slum in Nairobi Kenya. After consultation with Sister Leonida (the leader of Women for Women organisation in Kenya) we are collecting new boys and men's underwear and small children's beanies to take with us on this year's immersion. There is a desperate need for these items as many of the young boys living in this impoverished area have only one or sometimes no clean underwear. Similarly many mothers need assistance in ensuring that their young children remain warm in winter and children's beanies are a simple item of clothing that can help provide this warmth. Our wonderful library staff will be collecting these items from families wishing to donate. Your support of this initiative is greatly appreciated.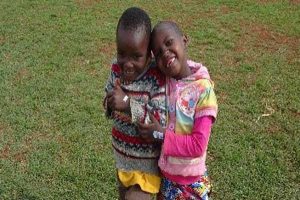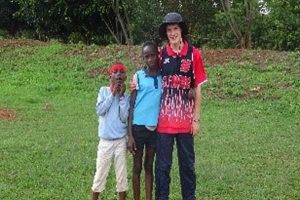 Japanese Visitors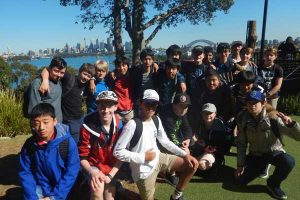 On Friday 3 August we welcomed our Japanese visitors for 2018. This wonderful cultural program has been running for twenty-three years and I must commend Mrs Papeix and Mrs Betty Kiekebosch for their tireless work in the promotion of this initiative. The visitors are billeted with families from St Edward's and participate in a range of experiences designed to provide our guests with a rich Australian experience. At a special assembly, we officially welcomed and introduced our visitors to some of the St Edward's Community. I would also like to acknowledge the generous support of our host families' from within the St Edward's community. Without their support, this program would not be possible.
Parent Teacher Nights
The Term 3 Parent Teacher Nights are scheduled for Tuesday 28 August and Thursday 6 September. These two nights will provide an opportunity for students and parents to gain further feedback on progress being made in each course. These interviews are scheduled at this time of year to provide parents of students in Year 7-10 with an opportunity to discuss the Semester One report information and student progress in relation to their learning goals for the year. Year 11 students and their parents will have an opportunity to discuss preparations for the Preliminary Examinations to be held in the last two weeks of Term 3 and Year 12 students and parents are able to discuss the Trial HSC Examination results and revision program suggestions leading up to the final HSC examinations.
Ongoing Support for the Environment
The College's focus on ensuring that we care for our environment continues to be promoted through all areas of the curriculum. Ms Claudia Barnard-Richardson's Year 9 Religion class were very diligent in cleaning up our school on Wednesday. They went through all the mangroves and near the construction site picking up plastics and general waste that has been accumulating. The boys collected seven garbage bags of general waste, plastic bottles (which will be taken to return 'n' earn) and larger items like bin lids, planks of wood and sporting equipment. They had a great time helping our school environment and working as a team for a great cause.