Principal's Message – 15 March 2018
– Justice and Solidarity –

As an Edmund Rice Community, we are committed to promoting an integral ecology through demonstrating deep reverence for the earth as both God's work and our home, promoting ecojustice and working towards a sustainable and regenerative future for all creation.
The St Edward's College community is committed to ensuring that we continue to promote an awareness and understanding about issues associated with ecojustice. We are fortunate to be able to work each day in an idyllic environment on the shores of Caroline Bay. With this privilege comes a responsibility to ensure that we are aware of our impact on the environment and foster in students' knowledge and skills that develop their understanding of eco-justice issues. A range of programs are established throughout the year that challenge staff and students to think critically about environmental sustainability. One such program was conducted recently in partnership with a local initiative titled Clean4Shore. Hayden Hansen, Alex Morris and Rory Macintosh of Year 11, have provided an account of their work in this program below.
Clean4Shore
Last week on Thursday the 1st of March, a group of eleven boys joined Jono from MacMasters Surf Club and the founder of Clean4Shore on a trip out into the mangroves surrounding our school. These boys were from the Year 9 and 10 Marine Studies classes, seniors from the Environment and Sport Portfolio and boys who were interested in helping out.
Kitted up in life jackets, wetsuits, wet socks and fluoro green shirts, the day started with the boys and Mr Lord departing from the school jetty at around 8:30am and loading onto Simon's barge (Jono's friend) and travelling to Erina Bay starting in the high tidal waters and mangroves. There was lots of small litter around with plenty of mosquitos as well to keep us moving. Luckily Jono brought the Aeroguard. Quickly moving through around 100 metres of shoreline and 50 metres deep the barge was loaded with 15 full bags of plastic straws, food wrappers, balls and many other rubbish items.
The next area of attack was just up from the Punt Bridge in the thick mangroves next to the road. The thick mangroves proved a challenge for the boys, but the team's efforts managed to bring out another eight full bags as well as finding plenty of treated pine dumped in the water from a landscaping project.  Some boys surprised by how much rubbish was next to the roads, obviously from people dumping their rubbish as they drive past.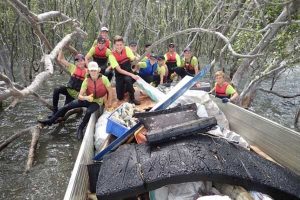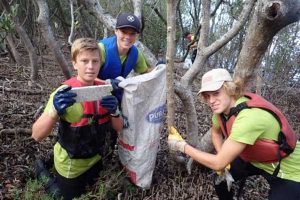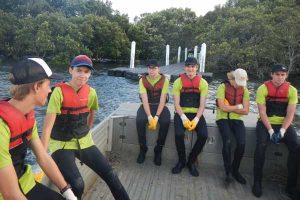 The last stop before the day was over was Caroline Bay, the bay the school backs onto. From here, the boys cleaned from the point to the school edges. This area was easily the worst with masses of litter spread widely throughout. Many stranger objects that people have dumped into the area were found here such as; a real estate's advertising sign, electric hedge trimmer and many oyster beds. As the group moved closer to school, the amount of rubbish was astonishing appearing in huge clumps. The surprising looks on the boys faces showed how disturbed they were by the amount of rubbish. Food wrappers and plastic bottles by the masses, and lots of rubbish that is sold at the school's canteen such as Dare iced coffee bottles, other plastic bottles, and other food wrappings. This section by far being the worst raised many questions about on where our rubbish really ends up. The team managed to pull out eight bags in this small area.
From the group's four-hour effort, we managed to clean only a small area but collected a lot of litter. This included 34 full bags of rubbish which weighed in at 640 kilos and included 2125 pieces of food wrappings, 1054 bits of plastic, 986 plastic bottles and 646 pieces of polystyrene, plus the large amounts of larger pieces such as timber and larger objects. The day was fantastic and a fun experience, thanks to Jono and to Mr Grant and Mr Lord in getting the boys involved.
Click Here to view the full gallery

39 Images
Welcome to the First Edition of the New College Newsletter – Touchstones
It is with great pleasure that we present to you the first edition of the new format of the College newsletter titled Touchstones. It is hoped that this contemporary approach to deliver news and information about the variety of domains of College life, provides readers with true insights into the lives of students at St Edward's College. This new format will be updated fortnightly and will provide a far more interactive approach, allowing readers to focus on areas of interest. I plan to write a piece each fortnight linking the work that we do with students to the four EREA Touchstones of Liberating Education, Inclusive Community, Gospel Spirituality and Justice and Solidarity. It is also planned, that each edition will contain student work with a selection of photographs, stories and reflections written by the students.
I would like to thank Ms Kerry Friend (Communications Administrator) and Mr Vic Olbromski (IT Support) for their excellent work and vision in bringing this new format to life. I hope that members of the community enjoy reading each fortnightly edition.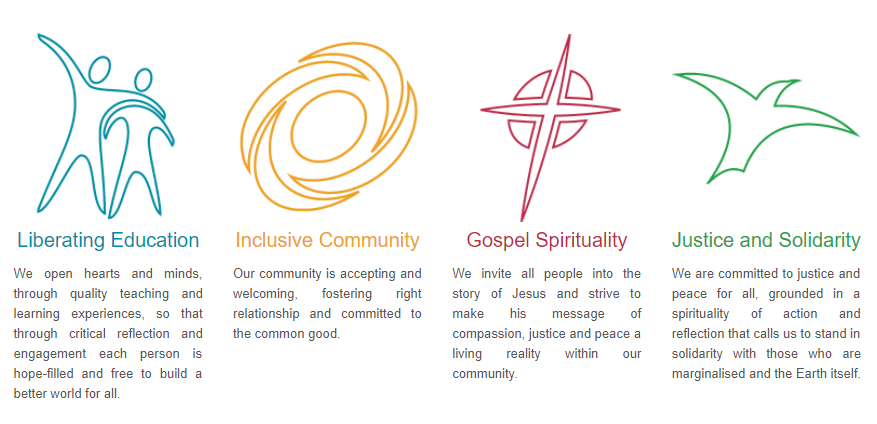 Grit
As mentioned in each edition of this year's newsletter, the theme for students for the 2018 school year is "Be the best that you can be". In promoting this theme, we constantly challenge students to strive to achieve their personal best. A great body of research has been conducted over the last decade on what makes individuals successful. Professor Angela Duckworth, an American psychologist is leading the way in this research. Her studies have examined the characteristics of successful people of all ages in fields such as work, education, sport and leadership. Her findings are very conclusive in identifying that the common factor is not intelligence or natural ability, but what she calls GRIT. She describes grit as being the passion, perseverance and determination to succeed. That innate factor that drives people to constantly strive to achieve their best. A great deal of work is yet to be done on how we develop this in young people. The role that parents play in conjunction with schools in fostering a growth mindset however is crucial. Parents are encouraged to be an active participant in their son's education, by providing ongoing support, advice and critique on their progress. Engage in conversations with your son regarding his goals for the year, encouraging him not to settle for mediocrity in relation to his application and effort. His best effort is what counts. His teachers will equally support him through regular feedback. At our senior assembly last Friday, I discussed with students in Years 10,11 and 12 the notion of grit and challenged them to adopt an approach to their studies that is characterised by perseverance, passion and determination to be the best that they can be. I encourage parents to continue this conversation with their sons throughout the year.
The link below is to a TED talk by Professor Angela Duckworth, where she describes her research and the concept of grit.
St Edward's Old Boys Union
On Monday May 7th at 7.00 pm, an Annual General Meeting will be held at the College for the St Edward's Old Boys' Union. The current Executive members of the Old Boys have devoted countless hours over fourteen years in the promotion of this important St Edward's Community group and are looking at stepping down. All committee positions will be up for nomination and a new committee appointed. To sustain the Old Boys into the future, we are calling for expressions of interest from any ex-students who would be interested in expanding this group through generating new ideas and enthusiasm. Any ex-students who may be interested in joining this group are invited to attend the meeting on May 7th or email the College on info@stedwards.nsw.edu.au  for further details.
Mark Bonnici
College Principal