Latest News and Opportunities from Careers/VET
White Card Success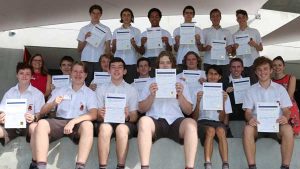 Congratulations to the 74 students who successfully completed The General Construction Induction (White Card) training through The Master Builders Association. This course was a mandatory component of their VET course and now enables them to go out on their work placement next term.  Classes going out on work placement next term are: Year 11 Construction, Hospitality and, Metal and Engineering. Parents will shortly receive documentation, through their son explaining the process and a work placement record that requires parent's signature.
Post School Options Presentations
To assist students make informed decisions about their career pathway choice, St Edward's College has organised four presentations during lunch time for interested Year 10, 11 and 12 students on the following days:
Monday 9 April – Australian Defence Force (Trades and degrees)
Tuesday 10 April – Apprenticeships and Traineeships
Wednesday 11 – Newcastle University
Thursday 12 – TAFE
Presentations will commence at 12.45 pm and conclude by 1.15 pm each day and will take place in the ERC Foyer
Parents are warmly invited to attend the presentations. On arrival, parents must sign in and out of the College via Reception.
Interested in Studying Medicine?
Information sessions for Year 11 and 12 students who  are interested in studying Medicine at the University of Newcastle are available on Monday 28 May between 3.30 pm and 5.30 pm.  In the Education Auditorium at Gosford Hospital, presented by Dr Amanda Dawson, Clinical Dean of the Central Coast Medical School.  To secure your seat please email Ms Dignam, Careers/VET Coordinator  jdignam@stedwards.nsw.edu.au
April School Holidays – Courses and Workshops Available
Free Career Taster Day –  An opportunity to get a taste for a career before you commit to a course. The Career Taster Day will give students an experiential snapshot of the career they are considering. Whether that be as a content creator, digital designer, sports publicist, digital journalist or an entrepreneur (to name a few). Course will take place on 19 April 2018.  RSVPs essential! https://goo.gl/u2PqTM
AIT: Special Effects in Film with After Effects  For those wanting to take their filmmaking skills to the next level, this workshop will help do just that. This 2-day workshop provides students with an introduction to desktop special effects compositing and motion graphics using Adobe After Effects. Course will take place on 16-17 April 2018, 10.30 am to 5.00 pm. This workshop is ideal for HSC students working on film projects. More information http://www.ait.edu.au/events/short-courses/sydney-workshops
AIT: Unity AI/VR and Game Development  (Beginners-Intermediate Level) Are you interested in making smart artificial intelligence? Do you like making video games? Master the art of game development and integrate AI in this intensive two-day workshop. Learn how to use Unity3D, the most popular software in the game development industry. Course will take place on 18-19 April 2018.  More information http://www.ait.edu.au/events/short-courses/sydney-workshops
AIT: VR and Game Development  (Advanced Level).  If you've already gained some experience in Game Development and Unity, take your skills to the next level. In this advanced workshop, there will be a great focus on Virtual Reality! Let's see what you can do in one day! Course will take place on 20 April 2018, 9.00 am to 4.00 pm.  More information http://www.ait.edu.au/events/short-courses/sydney-workshops
AIT: 2D Animation with Toon Boom Harmony 26th-27th April. AIT has been well known for its creative and talented 2D Animation graduates, and we are very excited to announce that we have put together amazing workshop! Over 2-days the students will have the opportunity to participate in the creation of an animated short story in collaboration with a group of other creative animators. On 26-27 April 2018, 11.00 am to 5.30 pm.  More informationhttp://www.ait.edu.au/events/short-courses/sydney-workshops
First Aid, White Card, RSA & RCG courses on school campus. On Campus course delivery, anywhere in NSW. First Aid, White Card, RSA and RCG Call 0243823055 email info@coastalohs.com https://www.coastalohs.com
AIE Industry Experience Day A great opportunity for students in Years 10, 11 and 12 to learn about the game development, 3D animation and visual effects industries. Students will get the opportunity to learn about the different pathways to get into the industry and get creative in practical workshops using industry-standard 3D animation and game development tools. Course will run on Wednesday 18 April 2018. Register now at http://www.aie.edu.au/ied or call 02 8514 880