College Athletics Carnival Information
College Athletics Carnival Friday 15 June 2018
The College Athletics Carnival is on Friday 15 June at Adcock Park.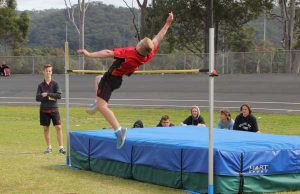 Students wanting to run in the 1500 m event will need to make their own way there for an 8.30 am start. Students will move from event-to-event in their age groups. The program will include the 200 m races at 9.00 am once all staff and students have arrived and then field events from 9.30 am.
Getting There
Southern end of the Coast (Woy Woy, Umina & Kariong) buses will stop near McDonald's West Gosford lights to drop those students off. Students will then be directed by staff to cross and then walk across to the oval.
All other buses will come to school as normal. Students on those buses will then be required to walk across to Adcock Park. Staff will be stationed along the pathway to Adcock Park to direct you.
Students are to take the most direct path and not cross to Hungry Jacks or the service stations to buy food and drinks.
Students can also get their own way there.
In the afternoon students return (walk back) to school to catch afternoon buses as normal. Parents can pick-up their sons from the oval at the completion of the carnival 2.15 pm.
Roll Marking
Rolls will be marked at the carnival
On arrival at the carnival, students are to sit in their Age Group Area around the velodrome
Rolls will be marked at your Age Group Area
Uniform
All students in Year 7-10 are required to wear Full Sports Uniform to and from the carnival
Students in Year 11 and 12 may wear 'appropriate mufti clothing'
Students are encouraged to bring clothing to support their house and compete in at the carnival
Fingers crossed that the weather is kind to us. If weather prevents the carnival going ahead, a notification will be placed on the local radio stations as well as the College Facebook page and App around 7.00 am.