Central Coast All-School Regional Surfing
The St Edward's Surfing team arrived at Soldiers Beach on Friday 4 May to contest the Central Coast All-Schools Regional Surfing Titles.
Conditions were almost perfect, a light offshore breeze, a beautiful sunny day and clear warm water. The only thing missing was swell, 1-2 ft at best but the banks at Soldiers are pretty good so there were a few fun, clean lines rolling in.
On days like this, with a tag-team format, wave selection is critical and the St Edward's team capitalised on every opportunity that came their way. Surfing for the Juniors, was Joel Barry, Hugh O'Malley and Joel Vaughan who all impressed the judges with some radical turns as they surfed their way to the final. In a very close heat where there was less than 1 point, out of a possible 20, separating 1st place and 3rd place, St Edward's finished a respectable 3rd place to winners Gorokan High School and 2nd place Central Coast Grammar School.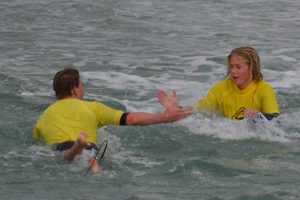 Harry Carpenter, Zac Paterson and Levi Kasun as a reserve were the most consistent team at the event, showcasing a repertoire of radical manoeuvres and posting several scores in the good to high range in every heat. This Opens team were standouts in the final taking 1st place in a heat that boasted a number of the Central Coast's most talented surfers. Congratulations to the Opens Team on a memorable win.
The Opens will progress to represent the Central Coast at the State Titles later in the term, along with Joel Vaughan who has been selected to represent the Central Coast in the All-Star division at the State Titles. Harry Carpenter will also contest the All-Star Division.
Thanks to Adam Robinson for organising the event, Surfing NSW for running the contest and Joseph Bonham in Year 7 who came along and helped with judging.