Allwell Testing Results for Year 7
By now most Year 7 parents and carers will have received the results of the Allwell Diagnostic tests that students completed mid-way through 2017.
We have found these tests to be very informative and reliable in terms of giving valid snapshots of student academic ability at that time, and in that respect, it is recommended that parents take the time to peruse these results.
In addition to the results, parents were also provided with reading recommendations suited to the reading level of their son/s. It has been pleasing to note and acknowledge that so many parents are utilising this resource, by sending their sons to the library to borrow from these suggested lists. Unfortunately, many of these titles have since been replaced and superseded by far more appropriate and engaging reading material suitable for young teenage boys. In light of this, the librarians have taken the liberty to suggest better alternatives to the titles recommended by Allwell. We trust that this meets with your approval and, as always, we applaud any initiative shown by the boys and/or parents/caregivers to encourage the boys to read more, both for enjoyment and information.
Monica Mayer                   Betty Kiekebosch
Librarian                            Learning Support Coordinator
Some of the New Suggested Reads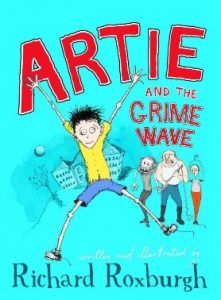 Artie and the Grime Wave – Richard Roxburgh
Artie and his best friend Bumshoe have stumbled upon a Cave-of-Possibly-Stolen-Stuff, and along with it a gang of shady characters including scary Mary, fang-toothed Funnel-web and the devious Mayor Grime.
Artie and Bumshoe's attempt to solve the mystery sparks a chaotic chain of events that involves kidnapping, puppy-dog cutlets, modern art and pioneering the sport of the bungee-wedgie.
It's a sticky situation and Artie's going to need help from family, friends, a little old lady, a small dog and the Fartex 120Y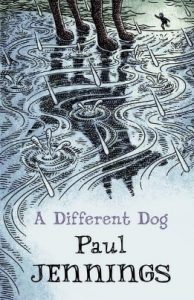 A Different Dog – Paul Jennings
The gripping and surprising story of a boy, a dog and a daring rescue from the bestselling, much-loved author of the Don't Look Now series and The Unforgettable What's His Name.
The forest is dense and dark. And the trail full of unexpected perils. The dog can't move. The boy can't talk. And you won't know why. Or where you are going. You will put this story down not wanting the journey to end.
A remote Rescue – George Ivanoff
A high-octane adventure series for children written in partnership with the Royal Flying Doctor Service. An isolated location and last-minute complications put this rescue in danger!
Sam, Dawson and Emma are taking a road trip with their dad along the dusty Oodnadatta Track. They stop at Farina, an old ghost town full of crumbling buildings – perfect for a game of tip. But as they run through the ruins, their dad seriously injures his leg and it's up to the kids to find help. They manage to call the Royal Flying Doctor Service, but the situation is so bad it's up to Dawson to administer first aid to his dad until the aeromedical retrieval team arrives.
Chance of a Lifetime – David Harding with Izzy Folau
Daniel and Sione have been given the chance of a lifetime to be coached by Australian rugby union star, Israel Folau. But can they make it count?
While Daniel and Sione come from very different backgrounds, they both eat, sleep and breathe rugby union. When they are selected for a junior representative rugby team, Daniel and Sione's worlds collide. At first, the boys are awestruck by Izzy, but soon they see him as a friend. Unfortunately, things on the field don't go as smoothly.
Will Daniel and Sione learn how to adapt to their new team? Or will their big break turn into a missed opportunity?
Paper Planes – Steve Worland
Twelve-year-old Dylan Webber lives in outback Western Australia in a small country town. When he discovers he has a talent for folding and flying paper planes, Dylan begins a journey to reach the World Junior Paper Plane Championships in Japan.
Along the way he makes unlikely new friends, clashes with powerful rivals and comes to terms with his family's past before facing his greatest challenge – to create a paper plane that will compete with the best in the world.